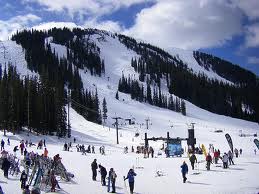 Summit County is the place to be this Saturday, February 11th for the 10th Annual Beacon Bowl and Avalanche Awareness Day at Arapahoe Basin!  Arapahoe Basin ski area is located just minutes from Keystone Resort, and this weekend, they will be hosting an event that no backcountry skier or rider should miss out on.  Beacon Bowl entrants will compete in timed trials to find a buried avalanche beacon the fastest. Spectators are able to test out the newest avalanche gear and attend clinics. All proceeds from this event will go to the Colorado Avalanche Information Center.
Afterward, you can hit up the apres ski party, which will include a raffle, silent auction and live auction.  A New Belgium cruiser bike will also be up for grabs!
The cost for the Beacon Bowl is just $25, and includes your registration fee, a beer from New Belgium Brewery, a slice of pizza and a raffle ticket for the apres ski party.  Registration will be from 8am to 10am on the first floor of the A-Frame. The apres ski party will be held on the first floor of the A-Frame at 3:30 pm, and beer (with ID) and pizza will be available for sale. The silent auction begins at 3pm.  Raffle tickets can be purchased throughout the day.
If you still need to reserve your lodging for the Beacon Bowl, Keystone is a great location to be your home base.  Give one of our SummitCove Vacation Planners a call, and be sure to let us know that you are heading to the Beacon Bowl!  We'll find you the perfect Summit County lodging to meet your needs!