Happy

Holidays

from

Summit

Cove!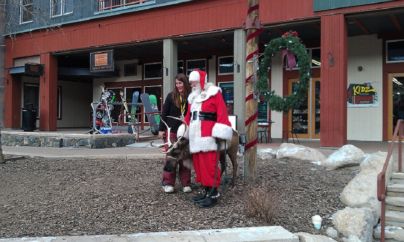 KEYSTONE RESORT HOLIDAY EVENTS
Thursday, December 15 2011- Thursday, January 5, 2012 Keystone Aglow
The holiday spirit comes alive with this lighting event to celebrate the season.  River Run Village will illuminate the mountain with image projectors and specialty lighting to a holiday soundtrack.
Thursday, December 15 – Tuesday January 3 Chocolate Village at Keystone Lodge & Spa
This handcrafted holiday tradition features 2,500 pounds of chocolate crafted into a miniature alpine village, a working chocolate gondola, a cascading chocolate waterfall, 6 foot tall white chocolate Christmas tree with chocolate presents.
Thursday, December 22nd-January 2, 2012 Lakeside ICESTRAVAGANZA
This lighting display features an interactive maze projected right onto the ice for a ton of Rink Maze fun!
Saturday, December 24th Santa and Live Reindeer
December 24th from 12-2pm.
Tuesday, December 27th -Tuesday January 3rd, Keystone Kidtopia
This festival designed just for kids includes the Snow Fort, dancing to live music, arts and crafts, Disco Tubing and educational activities to fill the entire weekend.
Saturday, December 31st New Year's Eve Celebration
Fireworks will light the sky to celebrate the New Year in Lakeside Village!
December 31, 2011 New Year's Eve Concert with Head for the Hills & Missed the Boat
Watch 2 bands perform, enjoy a champagne toast, and countdown to a brand New Year!  A night you won't want to miss!