Horseback Riding and Sleigh Rides Keystone Colorado
Horseback riding is a great activity to participate in Summit County. There are numerous trails perfect for exploration and several different companies in Summit County will help you find the right horse and the right trail! You can also enjoy summer or winter sleigh ride dinners with Two Below Zero.
The Early Season, starting in May, is the best time to view the wildflowers popping up all over the mountain. The crowds of the summer have not yet arrived, and you could have the mountains to yourself. Similarly, companies generally offer better specials in the early and later seasons (May, June and September) for these horseback riding adventures. The later season still has gorgeous views and in September you have the awesome experience of fall with the changing leaves and cooler temperatures.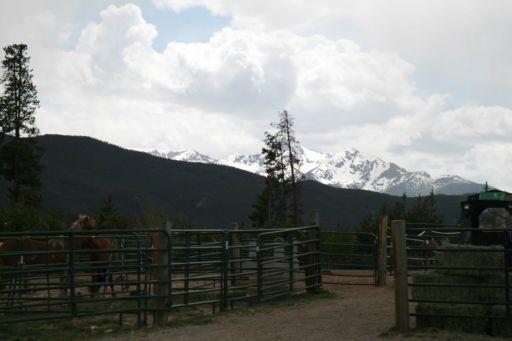 In addition to horseback riding, some companies do joint river rafting and riding packages. You can also participate in rock climbing, zip lining, hiking and other activities. Keystone is central to a lot of these activities and lodging in Keystone will give you access to all of these amenities.
If you'd like to stay close and take your family over to the stables to see some horses or take a quick ride up into the mountains of Keystone Colorado, the Keystone Stables is a perfect source for Horseback Riding in Keystone. The Keystone Stables are open from early June through early September and offers one or two hour guided tours through Arapahoe National Forest. Riders must be at least 8 years old, but they do have pony rides for younger riders! You can schedule horseback rides, watch horse grooming, and enjoy a little bit of the wild west.
KEYSTONE SLEIGH RIDES
Enjoy an enchanting ride in a horse drawn sleigh through the scenic valley and mountains of Keystone. The trip includes a dinner of delectable soups & homemade biscuits followed by decadent desserts. Reservations are required to enjoy. Call 800-354-4386 for information and reservations.


TWO BELOW ZERO MULE DRAWN SLEIGH RIDES
SummitCove guests receive a special discount with Two Below! Two Below Zero in Frisco, CO offers awesome sleigh ride and dinner packages and is rated the #1 sleigh ride in North America. The rides are filled with gorgeous scenery, fun times and some information about Summit County and the area that you venture into. Many packages include a delectable dinner with the sleigh ride and live musical entertainment. Dinner includes their famous Hearty Southwestern Soup, baked potatoes, Prime Rib, fresh baked apple pie and a variety of beverages both soft and hard. In the summer, enjoy the same fun with their Chuck Wagon Dinners!
STABLES, SLEIGH RIDES & HORSEBACK RIDING
Keystone Stables
1256 Soda Ridge Rd, Dillon, CO 80435
(970) 496-3550
*TWO BELOW ZERO
616 Recreation Way, Frisco, CO 80443
(970) 453-1520
Sleigh Rides & Summer Chuck Wagon Dinners
*Special Discounts for SC Guests & Homeowners
RUSTY SPURR RANCH
Colorado HWY 9 & Grand, County Road 387, Kremmling, CO 80459

(970)724-1123