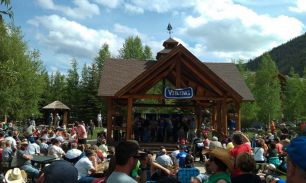 When you plan a Keystone Resort vacation, it's a great idea to include a side trip to one of our neighboring towns in Summit County.  Frisco is a great choice for just about anyone with it's small town charm, amazing scenery and plethora of activities.  This weekend, head to the 4th Annual Downtown Frisco Art Festival!
The Art show is set for 10am to 5pm on Saturday, July 7th and Sunday July 8th with FREE admission! Over 100 artists will showcase works including glass, mixed media, paintings, jewelry, pottery and more!  The Art Festival is a part of a show traveling nationwide.   There will be plenty of opportunity to view and purchase the art.  The festival takes place in Downtown Frisco on Main Street, so you will get the chance to experience all that the Town of Frisco has to offer.
SummitCove is offering some great discounts for the rest of July, so be sure to check out our specials when booking your Summit County lodging!