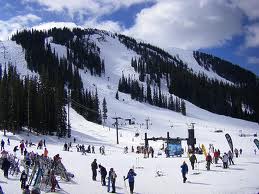 The Big Mountain Bumps Fest is set to take place at Arapahoe Basin, just about 15 minutes away from Keystone Resort from Saturday, February 25-Sunday, February 26th.  If you are looking for a great on mountain event for a weekend stay, this is a perfect opportunity.
This year, the A-Basin Snowsports School is introducing the Big Mountain Bumps Festival as a brand new program.  It is a transition from last year's High Adventure Series camps.  This year, the Big Mountain Bumps will be a hybrid of the two camps that were featured last year; combining the Ski and Ride Extreme Camp and the Tele Extreme Camp, which will be geared toward both intermediate and advanced skiers and riders.  The weekend session is designed to show off the terrain at Arapahoe basin and allow for plenty of student instruction.  Groups will be divided according to ability.
The Cost is $150 for the weekend or $90 per day with an add on lift ticket for $25.  Call 888.272.7246 for any additional questions about the event.
SummitCove has Keystone lodging available for these dates, located just a short distance away from Arapahoe Basin.  Contact a Vacation Planner today to learn more about reserving your lodging for the Big Mountain Bumps Fest!