Lakeside Village Area at Keystone Resort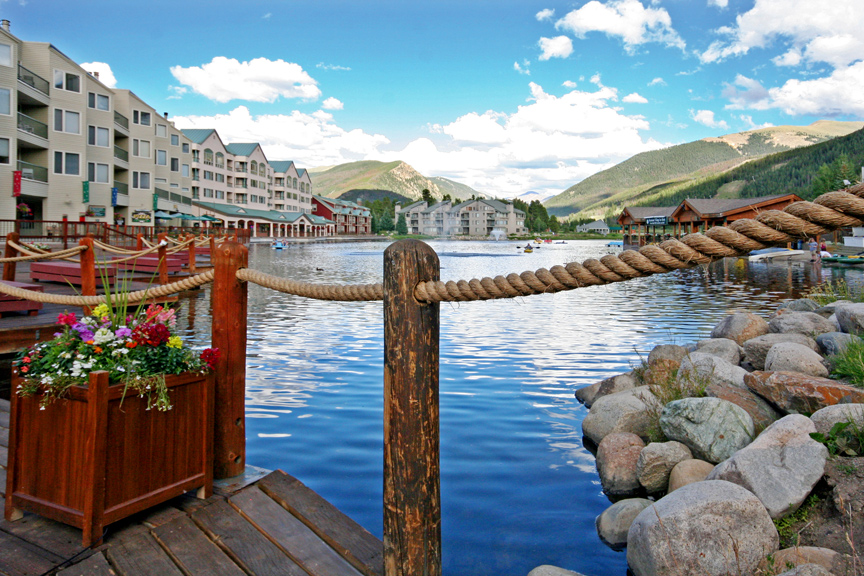 Keystone's Lakeside Village is one of the most unique areas in Keystone. Being home to the Keystone Conference Center, it is always bustling with people and there is never a lack of things to do. There are plenty of activities throughout the year in Lakeside Village to keep you busy and all having fun.
Throughout the summer, Keystone's Lakeside Village is the hub of the Keystone Adventure Center where there are paddle boats, canoeing, kayaking, stand-up paddle boards and more fun summer activities available to the whole family. Along with Keystone Lake, the Snake River runs right through Lakeside Village, with a bike path that leads you on a nice tour throughout Keystone. The bike path can take you as far as Lake Dillon and Breckenridge if you feel up for a challenge. Enjoy the breathtaking views of the Rocky Mountains and the Continental Divide over Keystone Lake, or take in the spectacular lake sunsets.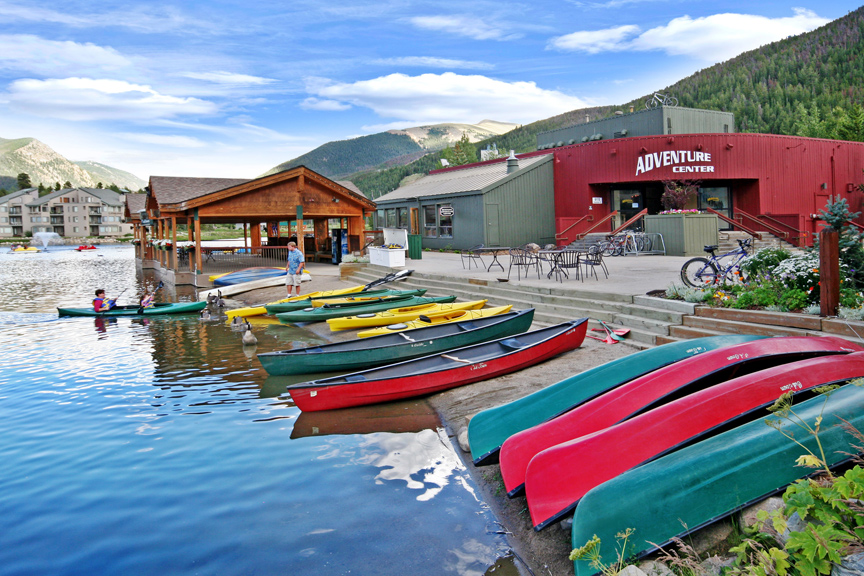 During the winter at Keystone Lakeside Village, while not being right by the ski lifts, you have Keystone Lake right out your day that freezes over in the winter and becomes the world's largest zamboni maintained ice skating rink, open to hockey skaters, figure skaters, and those just wanting to try a little ice skating for fun. With 5 acres of frozen lake, hockey rinks built-in, and skate rentals available, it is one of the best places to bring the whole family. There is a regular shuttle to take you the short distance to the ski slopes as well, to make this location great for families that do not want to be right on the slopes. Christmas time here is especially fun with all of the holiday lights and decorations, you'll feel like you are in a movie!


Dining in Lakeside Village
Being in Lakeside Village in Keystone, you can enjoy some dining on-the-waterfront at the Edgewater Café with views in all directions, along with many shops and restaurants including the Tenderfoot Lounge, Bighorn Bistro and Nowhere Pizza. Also, very close by is the Spa at Keystone Lodge, where you'll be able to bask in a little pampering after a long day of skiing, hiking or bike riding.
Lodging in Lakeside Village
Lakeside Village at Keystone offers you plenty of options for your next Keystone vacation, whether it's in the summer or winter! The Lakeside / Conference Village area has many vacation rentals to choose from, including:
Argentine
Clearwater
Decatur
Edgewater
Lakeside

Lakeshore
Lenawee
Mall
Montezuma
Plaza
Seasons
Willows
Contact Us