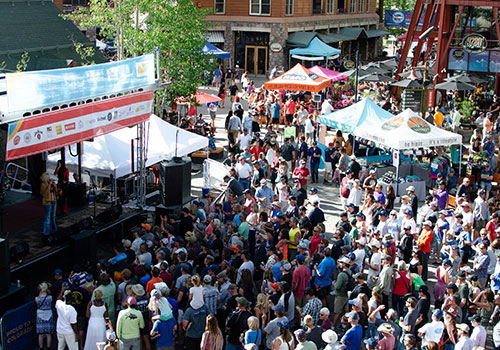 Although winter is still in full swing here at Keystone Resort, these bluebird sunny days in between the big powder storms have got us thinking SUMMER! There are just 36 days left of ski season and just a little more than 3 months 'til the summer season begins in the mountains!
With all of the weddings, concerts, family vacations, beach days and more starting to fill in your summer calendars, don't forget to write in time for your favorite summer festivals at Keystone Resort! SummitCove Lodging is one of two main Keystone summer festival lodging sponsors and as always, they offer some of the best summer festival ticket and lodging packages out there.  Guests can save up to 18% when tickets and lodging are booked together within a package.  All of their summer festival packages also include a complimentary 2-hour bike rental from Mountain View Sports!  Find their blue-tented booth at each summer festival to get some fun and free schwag and have your photo taken with their beloved mascot, the SummitCove Yeti!  There's no better way to remember your fun weekend at Keystone than with a group photo and commemorative souvenir!
Summer lodging reservations are already beginning to fill in, especially at the most desired properties. If you are hoping to book one of the sweet and rare properties that have an unobstructed view of the festival stage, it's time to start making your plans today.  Listed below are some of our favorite 'festival view' properties from SummitCove Lodging, but certainly not all of them.  If these gems aren't booked already, expect them to fill up quickly for all of the hot weekends like the end of June during Bacon & Bourbon Festival, Mid July for the Wine & Jazz Festival and of course the first weekend of August, during the Bluegrass & Beer Festival.
It's certainly not too early to start dreaming of summer.  Get your summer festival package booked now for the best property selection and pen in your favorite Keystone festival on the summer calendar!