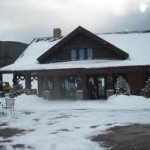 If you are headed to Keystone Resort for the first weekend in December, mark your calendars for Saturday, December 3rd!  The Best in the West Chili Cookoff will take place from 5-7 pm at the Day Lodge at the Frisco Adventure Park!
Public admission to the event is $20 per person.  To purchase your ticket, or if you want to enter your chili in the People's Choice contest, see the Town of Frisco website for entry details.
Chili competitors are to bring 1-3 gallons of chili (depending on category) as well as any side or toppings that complete the dish.  Contestants are also to bring their chili in their own container and should bring a heating device to maintain its temperature.  Spoons, bowls, and napkins will be provided.   Chili will be judged as a "People's Choice"  and winners in 6 categories will win prizes of $100.00.
If you are still making plans for your Summit County vacation, we still have great Keystone lodging options available for the Chili Cookoff, and throughout the winter.  Contact one of our Vacation Planners today for details on booking!