September 22, 2020
Do you want to experience an Instagram-worthy Fall adventure?  Keystone Resort is full of Instagram-worthy scenery whether you're out on the trails, in the main River Run Village, or at the top of the mountain.  To checkout the fall colors this week, a friend and I headed out for a loop ride we love in Keystone on our mountain bikes with a good mix of climbing and flow.  We started on the Keystone Gulch Road and headed up to the Keystone Aqueduct Trail, into Soda Ridge Trail over to Red Trail and then finally all the way back on Keystone Ranch Road.  We saw some amazing colors throughout this ride!  This was a longer ride of about 15 miles and we climbed over 2,000 vertical feet! If you stay anywhere in West Keystone, you'll be able to access these trails very easily from your vacation rental!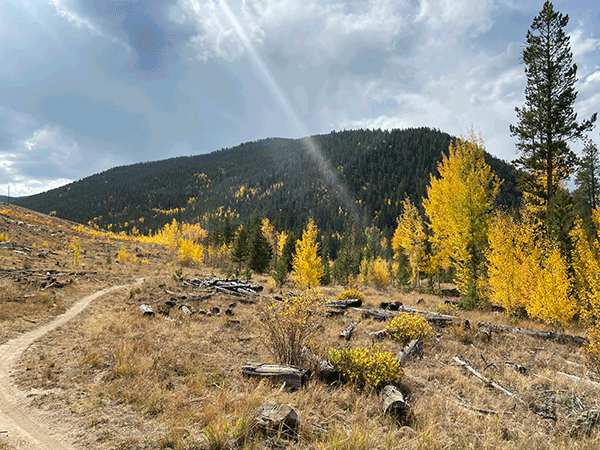 The fall colors are really starting to show and we're reporting about 75 – 80% fall leaves currently and only about 20 – 25% summer colors with just a few small pockets that are either still totally green or have already peaked and fallen off the trees.  We are predicting the colors will continue to peak through this next week, with this weekend, the last weekend of September, being the best weekend to come and see them at their prime.
For avid mountain bikers, there are tons of other local single-track mountain bike trails to check out in both the Keystone area and  greater Summit County during your stay. If mountain biking isn't your thing, these trails are also perfect for hiking! The Keystone Aqueduct Trail is fairly mellow and would be good for families as an easier hike with a couple of nice viewpoints and fall leaves.  Other fall hikes that are prime for colors & leaf peeping include Angler's Gulch and Ptarmigan Trails in Dillon and the infamous 'Aspen Alley' Trail in Breckenridge.
We are looking forward to seeing you in Keystone and on the trails soon! Call a SummitCove Vacation planner to ask about last-minute weekend availability. Don't forget your phone to get that perfect Insta post pic!