Keystone Resort is proud to be the final stop on Burton's Annual Mountain Festival Tour this weekend, February 20 – 22. After 7 stops all around the country, Keystone will close out this epic festival with demos, competitions, and activities for all age groups.
This event started this morning at 8 a.m. and ends Sunday at 4 p.m.. Burton will set up shop at the Mountain House base area, with multiple tents featuring different boards, bindings, and boots for you to try out and demo free of charge! Burton has something special to offer all people interested in learning a bit more about snowboarding, regardless of their age or previous experience.
For the smaller folks, the Keystone Ski & Ride school will be on-site teaching children as young as 3 years old in the Riglet park with FREE Riglet lessons. Keystone's Ski & Ride school has extremely motivated instructors who are excited to show your child the ways of the snowboard world!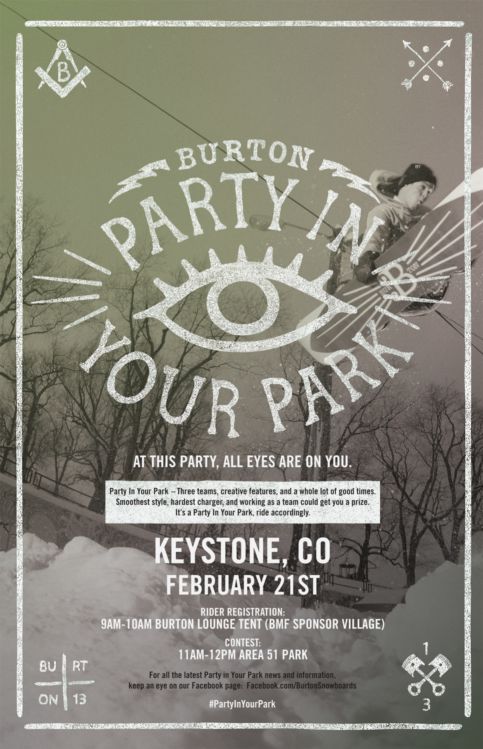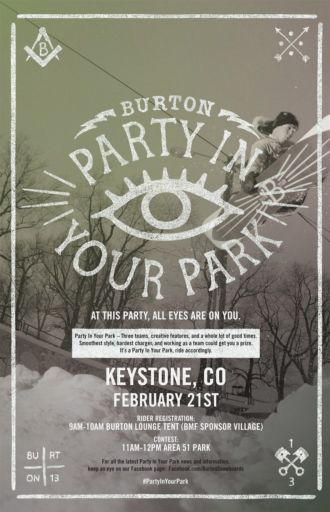 For the more experienced people attending this weekend's festival, Burton is debuting an all new "Party in Your Park" event. This is a team-based snowboarding contest that will take place in Keystone's infamous terrain park, Area 51. The Terrain Park officials will be specifically designing the features in Area 51 for this exciting event. Registration for this event is free and will take place on Saturday morning from 9-10 am at the Burton Lounge Tent.
Saturday afternoon, "The Swing Crew" will be playing live music at the Last Lift Bar, starting at 4 pm. The Swing Crew prides themselves on not only being a band that plays a large variety of music, but provides an interactive experience for the family. They will play anything you shot out and crack some jokes along the way.
The main goal of this exciting festival is to get the whole family engaged in the ever growing snowboarding industry. Burton helped create the foundation for what snowboarding has become today and holds the vision for what is to come in the future. So come out and try one of their amazing boards, get some knowledge behind the history of snowboarding itself, or dance with the family after a fun day of skiing!
Written By: Patrick Foley