My family and I recently stayed at Chateau DuMont #2723 for the weekend. It was great to be less than 50 yards from the lifts at the Mountain House base (where the lines are much shorter than River Run Village) and a very easy walk to the Keystone Ski school there as well! When I picked our kids up from ski school, I just loaded them and their gear in the big toboggan that we brought with us and pulled them about 100 yards on a snowy path back to our ski condo.
No tired, whiny kids having to walk in ski boots while mom tries to wrestle with skis and keep them walking! There was plenty of space for me, my husband, our 2 children and my best friend who I hadn't seen in years. Both bedrooms have very comfortable King sized beds which were perfect for a long snooze after a great day of skiing powder at Keystone Resort!  The two bathrooms were nicely updated with new fixtures and tile and both have 2 sinks in them so nobody had to fight for a sink to get ready in the morning.In the master bedroom  there is a jetted bathtub as well.
The kitchen at Chateau DuMont was large and had everything we needed to make early morning breakfasts and tasty dinners in the evening.  Our family decided to pack a quick lunch so we can eat on the picnic tables in Keystone's outback.   The spice cabinet was very well stocked, and we enjoyed listening to music on the surround sound stereo system in the living room while we cooked! The wood burning fireplace was a favorite and we were all able to lounge on the sectional couch and enjoy the fire while we watched a movie.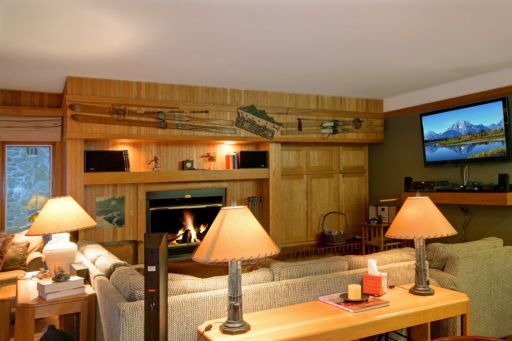 Last but certainly not least, is the private hot tub! There is an enclosed hot tub room off of the living room, and what could be better than taking a long soak after a perfect powder day in Keystone Colorado?   We had a great time at Chateau DuMont and would love to stay here again; the location can't be beat and the accommodations were fabulous. We wish we could have stayed for the whole week!