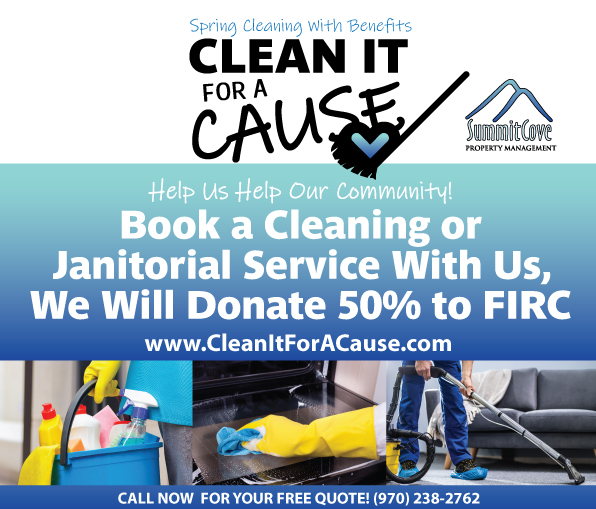 April 25, 2020
Keystone, Colorado
We know that everyone is struggling in some way during this time. We know that right now the basic needs of food and shelter for our community members is at risk and that we need to help.  The SummitCove Property Management Team has been busy brainstorming on what we can do to help those in need.  Our team decided that while we don't make masks or ventilators, we do know how to perform lots of in-demand cleaning services and we do them professionally. With that, 'Clean It For A Cause' was launched.  For all cleaning or janitorial services booked with SummitCove from April 25 – June 15, 2020, we will donate 50% of the retail cleaning services to the local Family & Intercultural Resource Center (FIRC) Food Pantry of Summit County with our new Clean It For A Cause promotion.  We see this as a win – win – win!  Our customers win: you get great cleaning services and will feel good that you also gave to a great cause. Our employees win by continuing to earn a paycheck and being able to support their families. Our community wins by keeping people off of unemployment and also by giving to those that need food assistance during these difficult times.  Please help us help the community!
Our top three priorities during this time are simple:
1. Keep Our Team Safe Both at Work and at Home.
2. Keep Our Team Employed.
3. Give Back to Our Community and Help However We Can.
We need to come together and help one another and care for one another. Although we aren't open for lodging again until after June 1, 2020, we are still working inside of properties and providing our services. Normally our services are reserved just for our 300+ property owners in Keystone but we decided we can open up our cleaning and maintenance service offerings to the public and give back at the same time! We have expanded our service offerings to the public, including other property managers, HOAs, businesses, realtors, landlords and local homeowners. We are working hard to clean properties and make them safe again through sanitizing and disinfection processes. We can tackle any job that you may not have had the time, equipment, staff or expertise to get done.
Our teams are background checked and fully trained in their areas of expertise.  We have complete housekeeping and maintenance crews, available to help you where you need it. Our teams follow CDC safety guidelines, social distancing protocols and wear the proper equipment.  We have redesigned the way we work in order to keep both our teams and our clients as safe as possible. Some of the cleaning services we offer including IICRC certified carpet cleaning, upholstery cleaning and leather restoration.  We can perform a disinfectant cleaning in your business or offices before you open up again to the public after the closures. Realtors may want us to perform a deep cleaning before a home sells or before a photo shoot, or have us do a touch up cleaning with high-touch disinfectant before and after a showing. Homeowners may want to enjoy a nice detail spring cleaning at their home after being closed up inside after these last few months.  Our teams can even wash the windows and clean your garage floor too! We are happy to provide a free estimate for any type of job that you may need done.  Moving out? We can help with that too! Leave the cleaning to us to prep for the landlord's inspection. If you are the landlord, we can help get your property ready for renters or cleanup after someone moves out.  We also offer bulk pricing for 5 or more properties for HOAs, property and building managers.
With your inquiry we will provide you with a free estimate of work, with all of the details you need.  We can do this in-person or 'virtually', through photos or a video tour walk through.  Our teams are available 7 days a week and we can arrange work around your schedule.  Schedule multiple services and take advantage of special bundling package pricing! Remember, we are all struggling, but there are ways we can help each other. Please join us in the fight! Book a house cleaning service or carpet cleaning today with Clean It For A Cause and we can make a difference in the lives of our friends and families who call Summit County Home. From The SummitCove Family to our Summit County Family, hang in there. We will get through this together!  If you would like to book a service or get a free estimate for services, call (970) 238-2762 or visit cleanitforacause.com.
Be safe, be kind, and please help if you can.