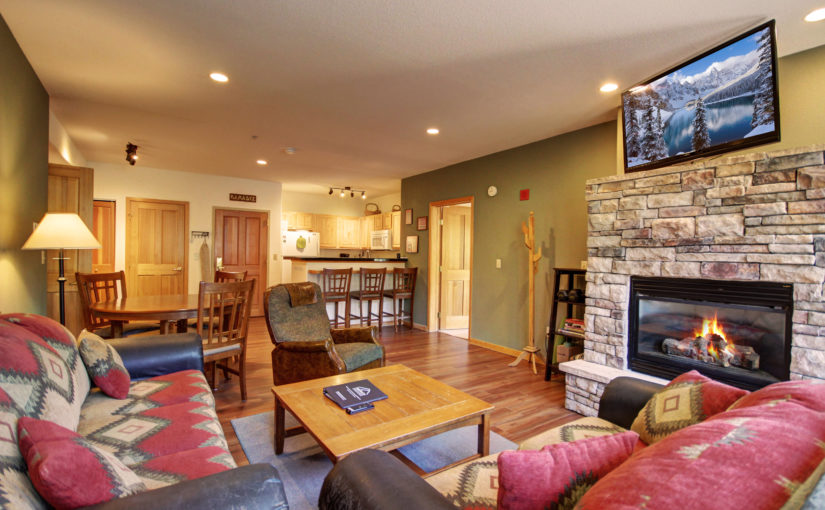 Just because you are on a budget, doesn't mean you can't enjoy a family mountain ski trip this winter with a wonderful home base in Keystone. You've heard how expensive a ski trip can be, from the lift tickets to lodging and dining out every meal.  If you just do your research, set a budget, pack those lunches and check out these helpful tips, your winter ski vacation will soon be on the horizon!
When looking for the best bang for your buck, here are some of the best options in Keystone. Typically you'll find lower rates outside of the main villages, just a short shuttle ride away from the ski slopes! When you book a vacation condo with SummitCove Lodging, you'll know exactly which condo you are staying at, choosing from the pictures and video tours online and reading real guest reviews.  We make it easy to find the perfect vacation rental that will work within your budget and for your group!
Slopeside Condos
These condos are literally 'slopeside', right next to the slopes at the Mountain House Base Area.  Although these are studio condos, most of them still include a full kitchen! You'll find that these condos have one of the best locations at Keystone Resort. Since the Slopeside Condos are outside of the main River Run Village, you'll find lower rates than anything in River Run. Choosing a studio instead of a one-bedroom saves you even more. The building at Slopeside was recently renovated in 2016 with a completely new facade and common spaces. Enjoy the 2 outdoor hot tubs with ski slope views and shared barbeque grills and gas firepit. The building also has a heated parking garage. Book your next stay at Slopeside Condos and save!
Gateway Lodge
The Gateway Lodge sits just outside the boundaries of River Run, meaning you skip the River Run prices, but still have a great location.  This building is super convenient, it not only hosts our check-in office, but you'll also find a breakfast spot, the Haywood Cafe, Breeze ski rentals, Gateway Grocery and Liquors, and Serenity Spa and Salon all on site in the main level of the building! This building hosts studios up to 4 bedroom condos, making it great for multiple families or friends with different sized groups traveling together.  The studio options are great for a couple or small family.  Most of the studios sleep 4 – 6 and feature a kitchenette instead of a full kitchen, so if you are willing to make microwave or hotplate meals, you'll find that these condos have one of the most reasonable price tags around.  Plan on meals like sandwiches, oatmeal, mac and cheese and so on while staying here and save by not eating out at every meal. The Gateway Lodge has a fitness center, heated parking, and indoor pool and hot tub and there is a shuttle stop at the front door of the building that comes every 20 minutes during ski season.
Flying Dutchman and Wild Irishman
These were some of the first properties built in Keystone, near the original Mountain House Base Area in West Keystone. Although they are older, many of them have been renovated and revamped with new flooring, decor, furniture and more. They are less than a mile from the ski slopes and you'll find that they tend to be much more spacious than some of the smaller condos in River Run. You'll find a range of 1 – 3 bedroom condos at both of these buildings and they include some great amenities like their year-round heated outdoor pools and hot tubs. They are located in a woodsy area with lots of open spaces, providing the perfect mountain setting for your family ski vacation!
Quicksilver Condos
This complex is personally one of my favorites! Quicksilver vacation condos tend to be multi-floor properties with lots of space and great views of the mountains. The setting is similar to West Keystone, with lots of tall pine trees and grassy areas that make for great scenes in the winter when watching the snow fall as you warm up next to the fireplace. These condos feature vaulted ceilings with lots of windows, making them bright and inviting. This complex has one of the best indoor pools in Keystone! The location is great, situated just across the highway from Keystone Lake, perfect to go ice skating with your kids in the winter. You are also just a mile from the Mountain House Base Area, with a free shuttle to take you there! Mountain House has a great ski school and learning area for beginners, as well as a lodge and lockers if you want to pack your lunch to save some cash for another activity!
Choosing the right ski condo can make or break your vacation budget!  If you need help finding that perfect place, SummitCove Lodging has vacation planners on staff 7 days a week to help you with your search.  Once you stay with us, you'll also be eligible for a returning guest loyalty discount to help you save even more on your next visit!  Don't hesitate to call us today to start planning your winter family ski vacation at Keystone Resort in Colorado!