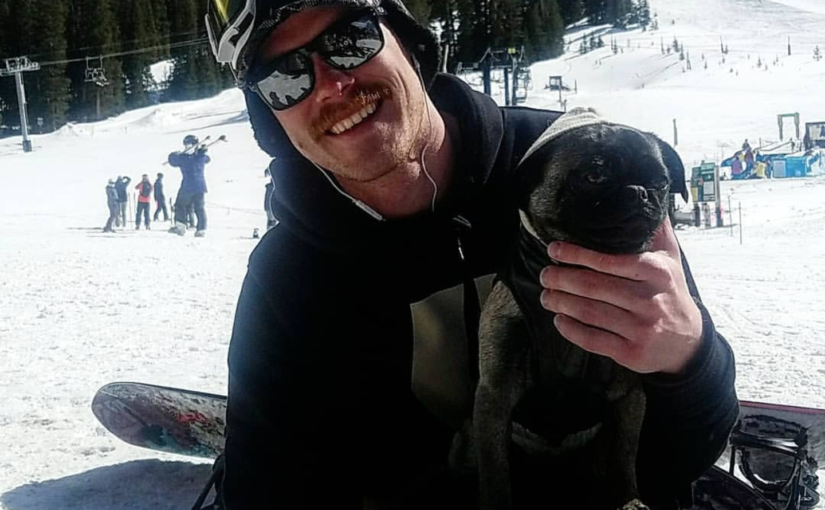 Today was so fun! I went up to Arapahoe Basin with a good group of friends for some quick laps before heading to work. I had a couple friends in town that had never skied A-basin before, so we wanted to show them around the mountain. The weather wasn't the greatest but we made due. We started out on Black Mountain Express, or what the locals call BMX. It only gets you about halfway up the mountain, but it still accesses some pretty fun runs. I like it most because it accesses beginner to intermediate terrain, but you're still able to keep good speed while hitting jumps, bumps and side hits.
After warming up a few short runs, we sent it down to Palli, or less commonly known as Pallavicini. This chair accesses some of the most gnarly, steep, and advanced terrain in Summit County. To many locals it's regarded as the most fun terrain to ski in the county, but that's all dependent on your ski skill level. With not much recent snow in the past few days and being with some first timers to the mountain, we decided to take West Wall, which is one of the mellower runs down. It's one of the few groomed runs accessed by the Palli lift and it does have a great pitch to it though making it great for ripping deep turns. We followed West Wall down to Dercum's Gulch where it flattens out a little bit leading you to Lenawee Lift. Lenawee is my preferred lift at A-basin, it accesses a wide variety of runs that are above tree line. It can even be skied by most beginner to intermediate level skiers with the amount of blue runs it services.
Upon approaching the top of the mountain, I sent it over to Humbug, one of my favorite runs on the mountain. It has a sweet gully feel to it, almost making it a natural halfpipe. From there I went down to Lenawee Parks, skiing right under the lift. I call those runs under the lift the 'Hollywood Lines' because everyone is watching you, it really puts you in the spotlight for your 15 seconds of fame. Lenawee Parks and the neighboring runs are all really fun because of the way the terrain creates natural jumps making for some really good sends. From there we passed the Lenawee Lift and dropped into the TB Glades for some decent tree skiing. I like the trails through here because the trees are spacious enough to really allow you to get into a good flow and rhythm. After the Glades, we hopped onto Wrangler for a nice easy run out to the bottom, were we regrouped for some quick drinks at the 5th Alley Bar, they have one of the best bloody marys in the county. 
All in all I'd say it was a great day, despite the weather. I think everyone should experience this mountain, so I try to bring all my friends to A-Basin. It has so many great things to offer, from the amazing views atop Lenawee and Palli Lifts, to the friendly vibe all the employees give off and of course the great skiing! You should definitely check out the legend, Arapahoe Basin, while you're in town.
Keep on Shredding!
'D-Roc'