The Summit Value Pass is one of the most popular season passes available from Vail Resorts. The Summit Value Pass offers Unlimited skiing or riding at Keystone and Arapahoe Basin with limited restrictions at Breckenridge. They call it the Summit Value Pass because we are located in Summit County Colorado! Breckenridge Keystone and Arapahoe Basin are all within 30 minutes of each other.
Summit Value Pass Prices for 2017/2018 Ski Season
Adult $559
Teen $449
Child $329
The Summit Value Pass is the next step up from the Keystone A-Basin Pass Some of the crazies out there will actually start with first chair in the morning at Breck, drive up to A-Basin after lunch, then head down the hill to Keystone for night skiing and riding!  You can do this with the Summit Value Pass.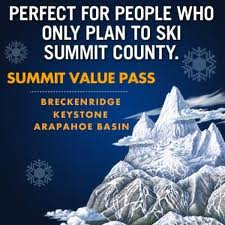 Blackout Dates ONLY FOR BRECKENRIDGE
Breckenridge restricted: 11.24.2017 – 11.25.2017, 12.26.2017-12.31.2017, 1.13.2018, 02.17.2018-02.18.2018 Remember this pass does not have restrictions at Keystone Resort or Arapahoe Basin!
You can purchase pass insurance for this pass as well.