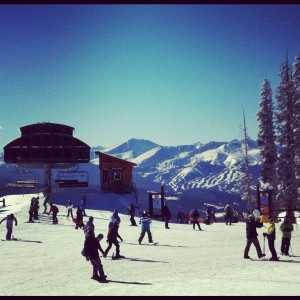 Discount lift tickets can sometimes be hard to find, but usually if you plan ahead it is easy to get an awesome deal and save yourself some money.  The best way to get discounted lift tickets for Keystone Resort is to purchase them online, at least 7 days before you plan on being on the slopes at Keystone.  When you purchase a 4-of-6 day lift ticket online, in advance, it will cost you just $90 a day and you will be saving $100 total from the ticket window price!  If you purchase either the 4-day or 5-day lift ticket for Keystone, 2 of those days can be used at Vail and Beaver Creek.  It is also good at Arapahoe Basin and Breckenridge, should you decide to go explore another resort for a day.  If you don't plan on skiing anywhere else, you have the option to choose the strictly Keystone/A-Basin ticket for an even better rate of $324 for 4-of-6 days of skiing or riding.
If you are coming out last minute or have just missed the 7-day advance window, there are still other options out there to get deals on ski lift tickets.  Websites like Liftopia.comoffer up great deals, but availability is very limited and they don't always carry tickets for every resort.  When you are heading up to Keystone, you can stop in at local grocery stores such as King Soopers, Safeway, and City Market to see if they have discounted tickets available.  You can also find discounted multi-day tickets sold at ski rental shops outside of the resort areas in Dillon, Silverthorne, and Frisco.
They key to finding great deals is to do your research and start looking as early as possible.  You might also want to consider getting a season pass for next year if you are planning on riding 5 or more days in a season, as it will quickly pay for itself. With a season pass you could also consider taking multiple trips to make it more worthwhile, think a long weekend in mid-January when the Holiday crowds have all gone and the powder really starts to pile up. It is also easy to find deals on lodging during off-peak times. There are value passes available, such as the Summit Value Pass, which offers unlimited riding at Keystone and Arapahoe Basin, with some restricted days at Breckenridge.  If you are from the mid-west, Vail Resorts recently acquired the Afton Alps in Minnesota and Mount Brighton in Michigan, meaning the Summit Value Pass would work at both of those resorts as well!