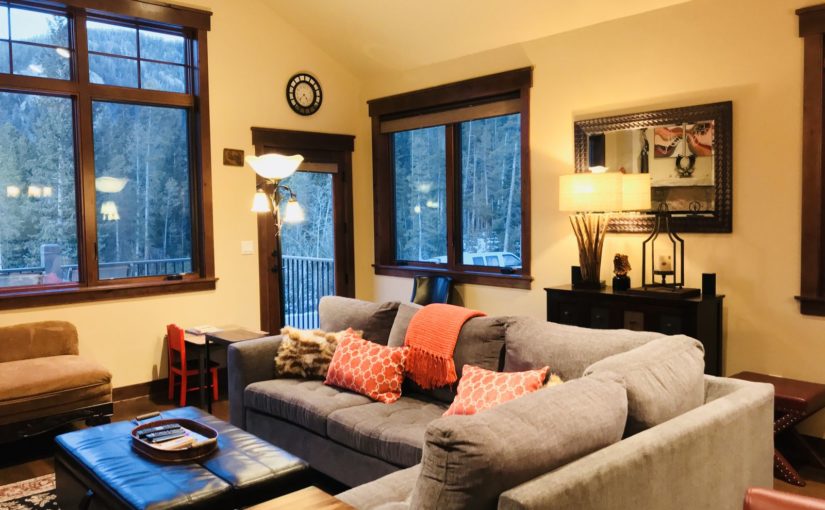 The holidays are just around the corner and prime properties are booking quickly.  Here are a few of our favorite properties to enjoy when spending Christmastime at Keystone Resort.  Book your reservation today with SummitCove Lodging while these properties are still available for Christmas in Keystone!
Alders 54
Alders Townhomes in East Keystone are one of the newest developments at Keystone Resort.  This 3-bedroom, 3 bath townhome, Alders 54, sleeps 9 people. There are 2 living areas as well as a beautiful, spacious kitchen and great views of the outdoors.  You'll love cooking up a holiday meal in the kitchen and spreading out on the sectional sofa with your family on Christmas morning.  This rental property won't be available for long!
Lone Eagle 3051
Lone Eagle condos are one of the few ski-in properties at Keystone Resort, making it a premier choice for a winter ski vacation.  Lone Eagle 3051 is a cozy 2 bedroom condo with a great balcony and a stunning view.  Luxurious finishes, a great master bath suite along with a huge kitchen make this the perfect place to host a holiday celebration.  Curl up next to the fire with your favorite Christmas movie and the whole family to make some holiday memories you'll never forget!
Keystone Gulch Cabin 1668
If you are looking for a mountain getaway, tucked into the woods with that cabin feel, this private home, Keystone Gulch Cabin 1668, is the place for you!  The cozy family den features huge floor to ceiling windows that allow you to feel as you are outside in the woods! A large stone fireplace and huge sectional are the ideal place for opening presents early Christmas morning! Three bedrooms offer space for mom and dad, your teenager and two little ones, or whomever else will be visiting on your holiday vacation!
Springs 8864
The Springs is one of the most popular condo rentals in all of Keystone Resort and River Run Village.  The best parts of The Springs are its pool area, proximity to the gondola and additional amenities such as a movie theatre room and kids playhouse.  Your kids will never be bored while staying at this lodge in Keystone.  Springs 8864 is a one bedroom, 1 bath that sleeps 4, perfect for a smaller family with one or two small children.
Ski Tip Ranch 8721
Ski Tip Ranch 8721 is a 4 bedroom townhome in East Keystone just steps from the free shuttle route. This spacious vacation rental sleeps up to 11 and has a wonderful back patio for a morning cup of coffee before you hit the slopes. Multiple levels offer added privacy and the fourth bedroom offers bunk beds, perfect for a kids room. Some added features include a jetted tub in the master bath, large dining area and private garage. You're also just steps away from the famous Ski Tip Lodge, which offers some of the finest cuisine in Keystone,  perfect for an intimate Christmas dinner.