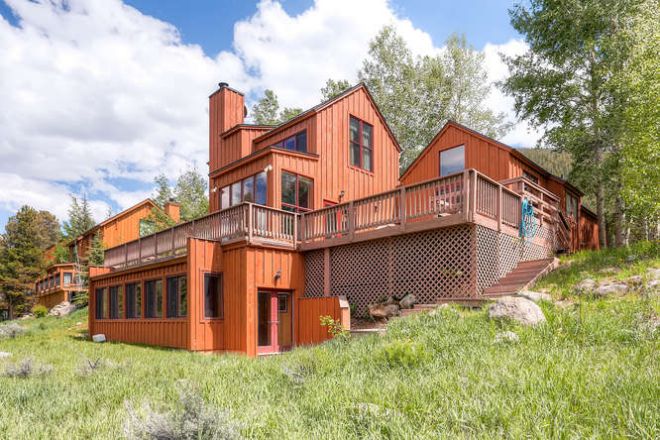 Keystone River Retreat #1247 is a 3 bedroom, 3.5 bathroom private house that sleeps 9 people comfortably. Each bedroom features a queen bed and private bathroom. The cozy cabin decor will gives the property that rustic mountain feeling, but still has all the modern conveniences you might need. Located in West Keystone, this house offers peace and quiet, while still being within a just a couple miles of the lifts and villages. In the summer, enjoy the sounds of the Snake River running past the house and the quick access to the Keystone bike path.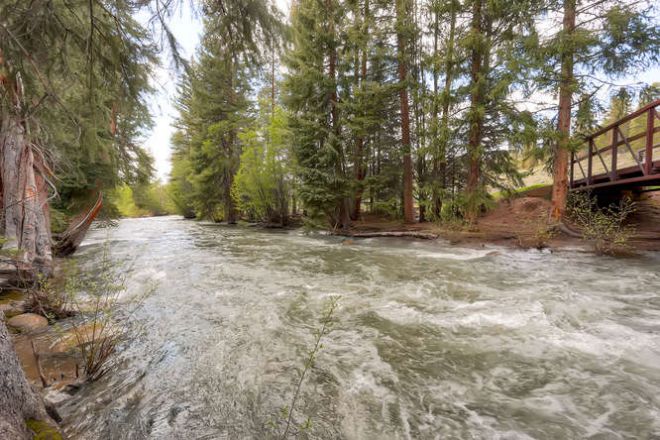 This private home has plenty of parking in the front driveway, as well as garage parking for two vehicles, meaning you won't have to worry about scraping off your windshield on a chilly Rocky Mountain morning. With ample deck space in the front and back of the house, this private home is ideal for hosting friends and family.  A spacious living room makes for a great place to gather. The kitchen has an open layout and is fully stocked with supplies, making cooking and entertaining a breeze. There is also a large game room located downstairs, away from the main living area and bedrooms, ideal for families traveling with kids.
Keeping your group entertained is easy when you stay at Keystone River Retreat. It is only a short bus ride away from Mountain House base area where you can find the ticket office, ski school, as well as generally shorter lift lines. The Lakeside Village is also only a few miles away, or another quick bus ride. There you can find various restaurants, the Adventure Center, and Keystone's outdoor ice skating rink – the largest Zamboni maintained ice surface in North America!
Keystone River Retreat is house that can easily accommodate several couples looking for a quiet get-away. It is also a very appropriate choice for a family with kids that need plenty of space to let loose and relax. If you want a spacious home with a comfortable cabin feel, this house is perfect for you!