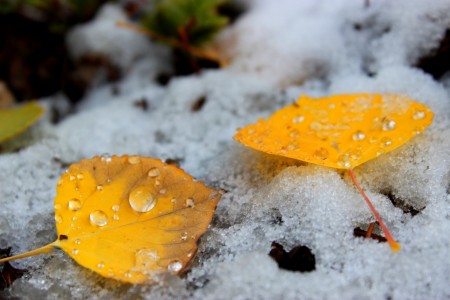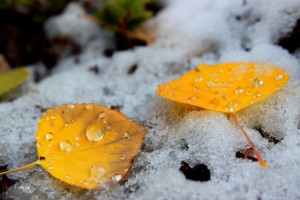 Cooler temperatures and rainy weather turned to snow overnight and Summit County residents awoke this morning to a snowy white blanket covering the still mostly green trees.  Has winter beat out fall this year? Fall colors only have begun to peek through and they will likely be in their full, colorful glory within the next week or two in Summit County and at higher elevations all around Colorado.  Fall is a wonderful time to visit Keystone. Come up and enjoy the beautiful colors and special 'mud season' deals at local restaurants. You will even find unbelievable sales on last season's winter ski and snowboard equipment as retailers are hoping to make room for new gear.
Arapahoe Basin and Loveland ski areas are typically the first resorts in Colorado to begin snow-making and both have reported that they have their snow guns ready to blow as soon as the conditions are right. Once snow-making begins, the two resorts are at a race to be the first ski resort to open their doors for the season.  For the past two years, A-Basin has claimed the title as the first to open in Colorado, last year opening on October 17th.
Keystone Ski Resort is slated to open in just 38 days on Friday, November 1st!  It's time to get out your winter jackets and start thinking about ski season!  Have you reserved your condo in Keystone for your winter ski getaway?