Summer is here in Keystone and the wildflowers are looking spectacular this season!  Huge, late-season spring snowstorms brought plenty of moisture to the high country, offering up the perfect conditions for the wildflowers to prosper and overtake the hillsides! Red paintbrushes, Lupines, Columbines, Wild Roses, Fireweeds and more are some of the most common Colorado Wildflowers.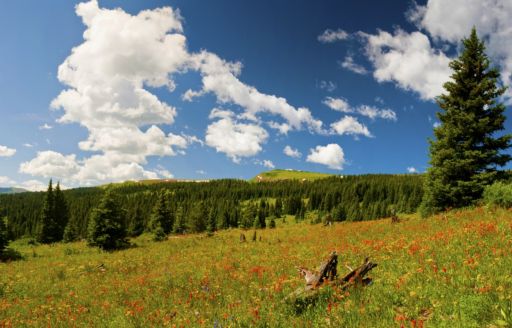 Check out our Top 5 Favorite Ways to View the Wildflowers This Summer! 
Don't forget to bring your camera!
1. Ride the River Run Gondola to the top of Keystone's Dercum Mountain and hike around the many trails above 11,000 feet!  Schoolmarm is a great family hike.
2. Climb 1 of Colorado's 58 'fourteeners', a peak that reaches higher than 14,000 feet! Grays and Torreys Peaks out of Bakerville or Quandary Peak in Breckenridge are both great intermediate 14'er hikes to start with! Begin your hike early morning to beat any afternoon showers.
3.  Hike to Shelf Lake in Montezuma, a beautiful trail that leads to a mountain lake, with plenty of wildflowers along the way!
4.  Try downhill or cross country mountain biking!  Many of the trails in and around Keystone feature rolling fields and vistas in which the flowers will be prominent.
5. Stroll around Keystone Lake and along the Snake River for a mix of beautiful planted flowers and wildflowers along the river.