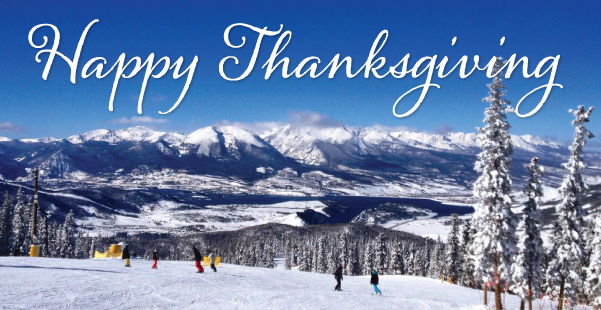 We want to wish everyone a happy and safe Thanksgiving Holiday!
Here are 10 things we are thankful for this year:
Our AWESOME guests & homeowners
The very snowy start of the 2018 / 2019 ski season
Being able to call the best ski resort in Colorado our home base
Our amazing team members; our second family
The full moon peaking over the mountaintops
Our country and everyone who's served to protect it
Our families and friends
Fresh mountain air
The incredible meal we get to enjoy today!
The 3 Peaks, 2 Gondolas, 18 Lifts and 3,148 skiable acres at Keystone
What are you thankful for this holiday?
If you are hoping to get up to the mountains this weekend to enjoy some ski or riding and to spend time with family and friends, we have a great last-minute weekend lodging sale going on, for up to 20% off stays over Thanksgiving Weekend! Snow is in the forecast and some are predicting over a foot of fresh snow by Saturday evening at Keystone Resort. Grab your family and friends and head to Keystone this holiday weekend.