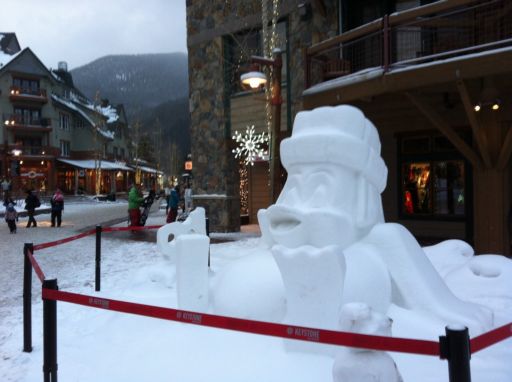 The Holidays are here at Keystone Resort!  All around the Resort you will notice signs of the Holidays, including the penguin Snow Sculpture pictured above!  There is a large lighted Christmas Tree in River Run Village and as you walk you will hear the sounds of Christmas Songs playing throughout the Village.  Some fun Holiday events are planned for the next two weeks in Keystone.
Ice Skating: 2 outdoor ice rinks are both open at Dercum Square in River Run Village and Lakeside Village.  Dercum Square is open daily 11am-8pm, and Lakeside Village is open 9am – 9pm.  Play pond hockey or play 'ice queen'- its something the whole family will enjoy!

Snow-Tubing: Just like when you were a kid, only on a much bigger hill with its own tubing lift – during the day or under the lights. With a unique state-of-the-art conveyor lift, the amount of rides is up to you. Get ready to laugh until it hurts in this must-do experience for all ages.  Every Thursday enjoy Disco Snow Tubing under the lights!
Night Skiing:  New Holiday hours have Keystone Night Skiing staying open late until January 6!  The mountain stays open under the lights until 8pm daily and 6pm on Sundays.  Keystone lift tickets hold the best value, with a 12-hour ski day!
Visit with Santa: The little ones will love telling their Christmas Wishes to Santa!

Saturday, December 22nd      4:00pm – 6:00pm                    Luigi's Pasta House
Sunday, December 23rd         4:00pm – 6:00pm                    Pizza on the Run
Monday, December 24th        11:00am – 1:00pm                   Kidz Cabin
Holiday Ice Show: Celebrate the season at the Holiday Magic Ice Show at Keystone Lake, performed by the Denver Figure Skating Club on Saturday, 12/22 at Noon. There will be 25 numbers that will be 1-3 minutes long each. Public skating hours of operation at Lakeside are 9:00am-9:00pm.

Keystone Aglow:  Every night, watch as both villages light up the night with Keystone Aglow, a light show in River Run and Mountain House Villages.
Keystone Kidtopia, Fireworks, & The Snowfort:  Keystone Kidtopia is all season long, with daily events planned.  Be sure to check out the life-size snowfort atop Dercum Mountain- this year has a new location, with a view! Every Saturday Evening, check out the fireworks show at 7pm, view from either village.
Chocolate Village at Keystone Lodge & Spa: Be sure not to miss this delicious homemade creation from Keystone Resort's Pastry Chef Ned Archibald. This handcrafted holiday tradition features 2,500 pounds of chocolate crafted into a miniature alpine village, a working chocolate gondola, a cascading chocolate waterfall, 6 foot tall white chocolate Christmas tree with chocolate presents. This mouth watering creation gets a special new addition every year.
Head for the Hills New Year's Eve Celebration:Ring in the new year with one of your favorite bands, Head for the Hills playing at Warren Station. Come and join us at Keystone for New Years Eve!  Head for the Hills, champagne toast, and countdown to a New Year!  A night you won't want to miss! Doors open at 7pm, show starts at 8pm.  Get tickets online HERE.
New Year's Eve Celebration in Keystone: Bring in the New Year at Keystone!  Join us for an evening full of activities and events including a Torch Light Parade on Dercum Mountain (visible from River Run Village), two firework shows in Lakeside Village, a midnight balloon drop, a concert featuring the Colorado acclaimed quartet Head for the Hills, and much more still to come!
Lakeside Village:
10 a- 8pm: LEGO Oasis NYE Celebration at Expedition Station
6:00pm Lakeside Village Fireworks
10:00pm Lakeside Village Fireworks
River Run Village:
7:00pm River Run Torch Light Parade
9:00pm Head For the Hills Concert