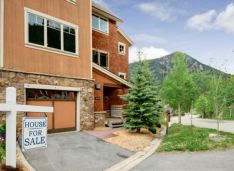 One of the main questions we are asked by homeowners who are looking to sell their property up here in Keystone is how to do so while continuing to rent it out to short term renters? Selling a property is of course a process, but actually, renting the property during the process can be more than beneficial.
When you are selling your property, it is very important to maintain the property in good working order and condition.  This will help to minimize what needs to be done to it prior to closing, as well as to position it in the best light possible for potential buyers. This is one of the major concerns owners have with renting, believing that when the property is being rented, it is going to experience harsh wear and tear and things will be breaking all the time from renters. Part of this is true. Yes, you will have some wear and tear on the property due to renters, however the role of the property management company like SummitCove.com is to keep every bit of the property in good working order. Sometimes renters or housekeepers will report something not working or broken and then that item will immediately be fixed thanks to the speedy services of the property managers.  We are here to care for your property and have multiple eyes in the property on a regular basis that will notice when things need attention.
Another qualm with renting is that the property will be dirty all the time and we will have difficulty getting potential buyers into the property if it is rented. This mostly a non-issue. Because short term property rentals are cleaned between every reservation, your property will be cleaned more often than your own home in most cases!  Also in the case of short term property management there are many open times between reservations allowing real estate agents to access the property. Often if there is a situation where someone wants to view your property yet there is a guest occupying it, we can help the realtors by contacting the guest to arrange for the realtors and the potential buyer to come through and check it out.
A huge benefit of renting your property while you are trying to sell is income. If your property does nothing but sit vacant while it is on the market, it most certainly is a cashflow loss. If you take advantage of short term vacation rentals, you can plan to have money coming in to continue to help pay the bills on the property while you are trying to sell it and possibly even make a profit during this time. At least make it cashflow neutral!
Lastly, a benefit of renting your property while you are trying to sell it is that we can communicate with folks who are interested in buying a property and perhaps entice them into staying in your property simply for the reason that it is for sale. Consider rentals like this as "test drives." If they enjoy your property, then they might consider purchasing it.  We have many guests inquire to us about purchasing properties in the area and which ones might be for sale and also work closely with realtors in the area that have buyers that are looking for properties.
There are many benefits of doing short-term vacation rentals your property while you try to sell. If you would like more information why not just give us a call?  We can help you through the whole process or even just offer advice if you need some questions answered.