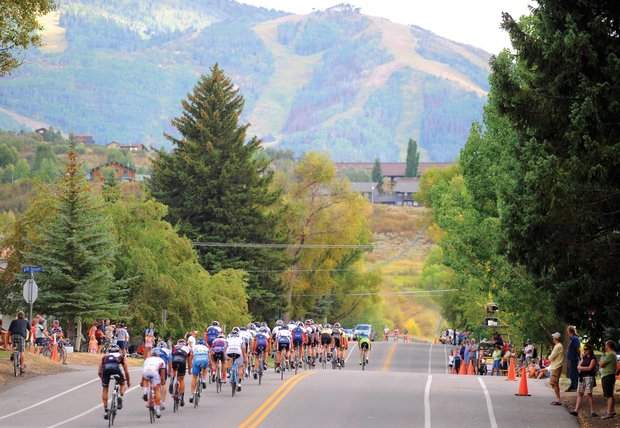 Cycling enthusiasts are gearing up for the ProCycle Challenge.  This 7 day stage race is the most difficult ever held in the United States and will feature some of the top cyclists in the world.  If you're heading to Summit County to see it, check out our suggestions for making the most of your trip to the mountains.  Keystone is a great base for anyone who wants to see this event.  Contact SummitCove for all of your vacation planning options!
A perfect weekend based around the ProCycling Challenge
Keystone is only about 2 miles from Swan Mountain Road, which promises to be one of the most exciting points of the stage. Arrive in Keystone on Friday, and relax with some great mountain hospitality. Enjoy River Run Village's great restaurants and spend some time in the outdoor or indoor hot tubs.
On Saturday, get up early in the morning and go for your own ride! For advanced riders try one of the most difficult climbs in Colorado, the challenging 9 mile ascent from Keystone to the top of Loveland Pass. For the intermediate rider, head on out to the Town of Montezuma or try Swan Mountain Road for yourself and see how your time stacks up against the pros. Novice riders can try the Summit County bike path system and enjoy the gorgeous scenery. For Mountain Bike enthusiasts try the great single track trails around Keystone, or have some fun and haul the bike up on the Gondola for some downhill fun in the bike park.
Make sure you make it to Swan Mountain Road before 1pm to get a good spot and bring a cooler with some cold drinks. As you relax take in the scenery and wait for the approach of the riders and chat with locals and fellow bike enthusiasts. For those who want to ride up to watch the race, bikes will be allowed on the route at all times, although as the race approaches you will be asked to dismount and move to the side of the road. Follow the riders to Breckenridge and see if you can catch a glimpse of them signing autographs, grab a bite to eat, walk around the old town of Breckenridge and then come back to Keystone and relax away from the crowds.
Before heading on out of town on Sunday, why not go for a hearty breakfast at one of Keystone's many restaurants?  On your way out of town, swing by downtown Dillon to check out the marina.  You can rent a sailboat or a powerboat for a few hours.  Don't forget to come back next year and watch the riders take on new challenges!