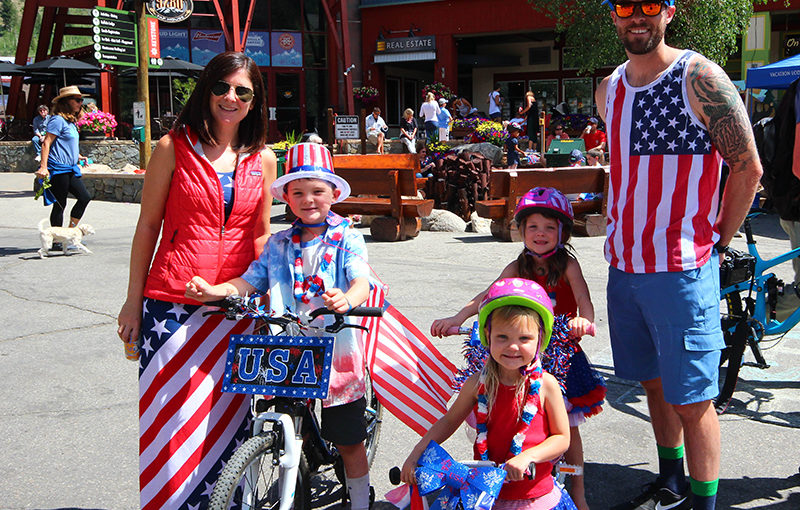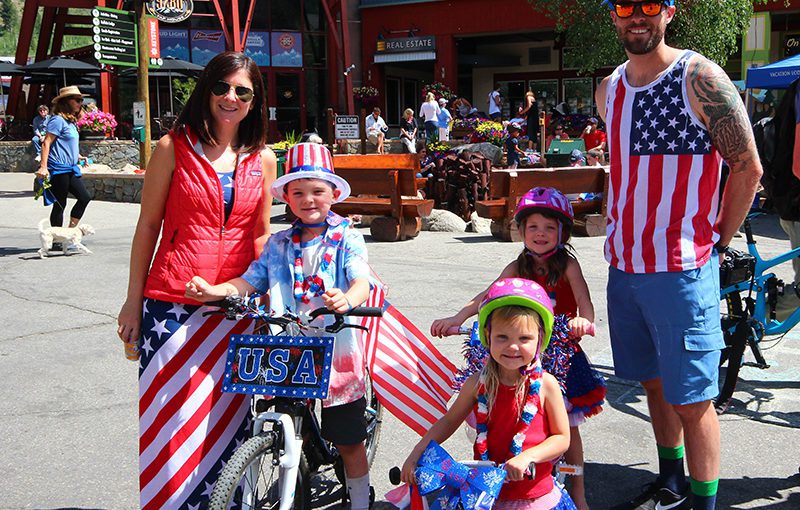 This summer, Independence Day visitors are going to love the brand new, totally stacked, weekend packed lineup this year for the 2019 4th of July celebrations at Keystone Resort. 'Stars and Guitars' will be an entire 4 days of fun with live music, the bike parade, B.L.A.M., BBQ's, Kidtopia Kidzfest, activities and more.
The festivities start off on Thursday, July 4th with the annual Independence Day Bike Decorating Parade in River Run Village. SummitCove Lodging will be on hand, passing out free bike decorations and cheering on the parade.  Bring your bike and add some sparkle, happening from 10:30 – 11:30 am on July 4th.  Following the parade, families can head over to Lakeside Village for the Bubble Beach Party from 12 – 1 and create bubbles as big as your head! Looking for some creative fun? Check out the Star-Spangled Cupcakes and Canvases event at the Kidtopia Headquarters at Expedition Station from 3 – 4 pm. The Independence Day Party kicks off from 3 – 7 at Lakeside Village with face painting, live music, crafts, bounce houses and more!  Finishing off the night will be the So What Brothers, as they take the main stage at Lakeside from 4 – 7 pm.
Day two of celebrations starts at the Kidtopia Stars & Stripes Party & BBQ at Lakeside Village from 12 – 6 pm on Saturday, July 5. You'll enjoy field games and a summer BBQ, along with the live music and antics of Circus Foundry, performing from 2 – 5 pm and then Meadow Mountain playing from 2 – 4 pm.  You can also take a ride on the Keystone Gondola, free of charge, at the Friday Afternoon Club anytime from 1 – 7 pm.  Cap off the evening with a cold beverage, live music and shopping from local artists at Warren Station's B.L.A.M. (Beer, Local Art & Music) from 5 – 9 pm in River Run.
Saturday is a day for the kids! Kidtopia Kidzfest happens from 11 am – 3 pm in River Run Village.  A Kidtopia Train will be winding through the village with free rides all afternoon. Kids can get their faces painted, jump in the bounce house or ride down the giant inflatable slide – the choices for fun are endless!
The music doesn't stop on Saturday either with the Kidtopia Stars & Guitars Concert. Cover band, Rock and Roll Playhouse will play your rock favorites such as Tom Petty and Rolling Stones from 3 – 5 pm.  The main act, Hazel Miller Band will be rocking the main stage from 5:30 – 7:30 pm.  If the live music isn't your jam, head over to the Adventure Center instead for Camp Night, where you can enjoy a fire with s'mores, crafts and more from 5 – 7pm!
Rise and shine Sunday morning for pancakes at New Moon Cafe, followed by the Strider Balance Bike Races in River Run from 10 – 11 am.  Enjoy a relaxed afternoon by the Lake in the Lakeside Gazebo with live Bluegrass music from Moidel Music and Colorado Wildflower Crafts, where participants can color their own flower pots to bring home as a souvenir!
Don't forget to squeeze in your other favorite summer activities while you are here, like downhill mountain biking, fly fishing on the Snake River, stand-up paddle boarding or going on a Wildflower Hike atop Dercum Mountain. There's so much to do that you might find you need to stay a whole week at Keystone this summer! Check out available vacation rental condos here- we recommend staying in River Run or Lakeside Village for the 4th of July holiday to be where the action is. Make your plans today to enjoy a whole new Independence Day weekend celebration at Keystone this summer!