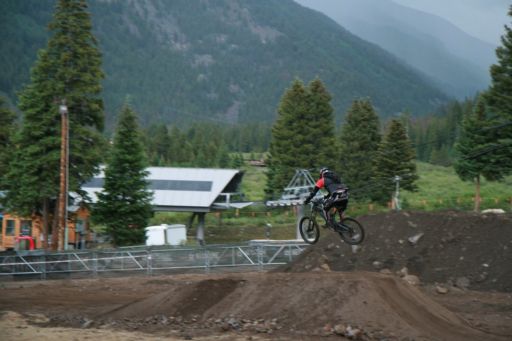 Mountain biking season at Keystone Resort is just around the corner!  Keystone's Park is nationally acclaimed as one of the best in the nation, including features like the Drop Zone, rock gardens, high-speed areas, daily terrain updates, not to mention some easier blue and green runs for those looking for a more laid-back downhill ride.
If you've never tried mountain biking, Keystone is a great place to learn.  One major advantage of riding at the resort versus other trails around the county is the bike haul system.  The lift will take you and your bike up to the top of Dercum Mountain, where you will be 11,640 feet in altitude and immediately hit by the amazing, panoramic views of surrounding mountains and Lake Dillon.  The green hillsides make for a beautiful summer afternoon.  Choose from miles and miles of varying trails that range from kid-friendly, beginner runs all the way up to extreme 22 foot drops and double black diamond trails that require full padding.  Downhill mountain bike rentals are available throughout the River Run Village area.
Head to the park on the weekends and enjoy a beer, some food and live music at the Summit House, staying open until 7pm most Fridays and Saturdays. Here you can participate in FREE activities like horseshoes, bocce ball and ladder ball.  The Friday Afternoon Club happens every Friday starting June 15 through August 31 and after 4pm, gondola rides to the top are free.  (Does not include bike haul).
The Keystone Bike Park is set to open for the summer on June 15, 2012.  Season Passes for the park are available, along with multi and single day options, with pricing as follows:
1 Run: $23 Adults, $11 for Children (Ages 5-12)
1-Day Pass: $37 Adults, $21 for Children
2-Day Pass: $70 Adults, $38 for Children
3-Day Pass: $96 Adults, $48 for Children
Season Passes:
Keystone Only Unlimited: $299
Keystone Only Unlimited with Winter Season Pass: $249
Keystone Only 5-Pack (Must purchase by 6/30): $139
Typical hours for the the bike park will be from 10am to 7 pm on weekends, and 10am-5pm Monday through Friday.
SummitCove is promoting opening weekend with some great deals on lodging. This is the perfect time to plan your summer vacation at Keystone Resort!