What does the new gondola move mean for Keystone Ski Resort Real Estate?
Friday, December 21st, 2007 was the official announcement of the installation of a new gondola at the base of Keystone Resort River Run Village. The replacement of the gondola in River Run marks a defining moment in Keystone Colorado with years of expansion and development to come. The current 6 person gondola will be replaced with a high speed 8 person gondola, which will help move more people up the mountain in less time than ever before.
One of the most interesting things about the moving and upgrade of the gondola is how it might possibly play into a master plan of the Keystone Resort Area. As we all know, the motives behind moving ski lifts costing millions of dollars are behind closed the corporate doors of Vail Resorts, Inc. It is interesting that Vail Resorts would choose to spend so much money moving a gondola only a few hundred feet. What exactly is the benefit to spending so much money in order to gain 2 more spots per tram car and making it obviously closer to River Run Village?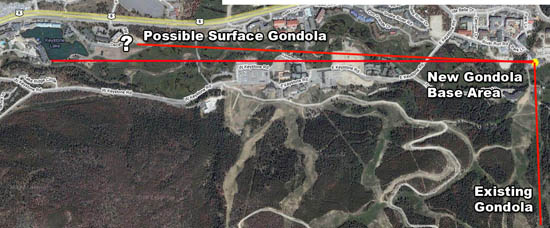 Keystone Colorado Gondola Possibilities
A quick glance at a map of creates some interesting possibilities for the Keystone Ski Resort area. The yellow dot represents the loading station proposed. The 2 red lines drawn show a possible surface gondola that has been rumored in recent years to the Lakeside Village and Keystone Conference Center. It is not known exactly where the terminal station would be for that possible lift. By moving the gondola, this puts a direct line to the Keystone Lakeside Village without interfering with existing buildings and land. All lift towers could be installed in natural wetlands with little or no impact to wildlife. It has been rumored at HOA meetings for various condo complexes recently that environmental impact studies have been completed to asses the feasibility of such a project.
Even more compelling is the fact that there have also been rumors in HOA meetings of opening new terrain near the Keystone Lakeside Village. Why is the concentration of activity located around Keystone Lake? Simply put, the Keystone Conference Center is a huge draw for conventions and visitors since it one of the most unique and nicest places in Colorado to hold a conference or meeting. With activities for everyone, it is an attractive place for conventions, weddings and professional conferences for all industries and would easily complete the one place in Keystone that is "stranded" by itself, relying on shuttle transportation to get people to the ski slopes. It is possible in the next 10-15 years to have new ski terrain also opened near the Keystone Gulch area. It is possible that new lift could be constructed from what is now known as the Argentine Building at the Keystone Lakeside Village up into the nearby hills, all connected by a surface lift to River Run Village. Keep in mid that THIS IS ALL SPECULATION AND BASED COMPLETELY DEDUCTIVE REASONING AND WORD OF MOUTH AT THIS POINT IN TIME.
The only missing piece to the puzzle is how the Mountain House base area might tie into a master planned Keystone Ski Resort. As seen on the map, the possibility of a surface lift along the wetlands presents the possibility that there could be a loading station at the Mountain House area. Preliminary plats of a new Mountain House base area have been submitted to Summit County, Colorado and can be seen below on the map. While no loading station for a surface lift exists in that plan, it is entirely possible to tie in such a station and create an overall master plan for all major base areas of Keystone.
This is all exciting for property values and new development in the Keystone Resort area. While it will take many years to see how this speculation all plays out in the real world, it leaves little doubt that the proposed changes present a unique investment opportunity in Keystone Resort Colorado.
By far one of the best things about the move of the gondola in River Run is the investment opportunity in Keystone Resort. In 2007, overall property appreciation rates in Keystone Resort realized over a 30% gain. While this trend is unlikely to keep the same pace in coming years, it is showing no signs of slowing down and the news of the new gondola is likely to help keep this rate from dropping very far in the near future even with the slowdown of the US economy.
The best properties in Keystone Resort to see an immediate gain are obviously The Springs and Red Hawk Lodge. Anyone who already owns in either of these buildings is sitting on a great investment opportunity and should stay put. Other affected buildings include Black Bear Lodge and Jack Pine Lodge. The move will greatly increase property prices in these 2 lodges since these properties will have the greatest benefit to the moving of the gondola. Overall, River Run as a whole looks to benefit greatly from the exciting news of the gondola.
If the scenario of this new move of the gondola plays out to include a surface lift to the Lakeside Village in Keystone, there is further investment opportunity near Keystone Lake. Since preliminary plans have already been submitted to Summit County for a remodel of the Mountain House area, it is likely that the Mountain House project would take precedence, but the possibility of connecting River Run and The Keystone Lakeside Village cannot be ignored even if it is a possible long range plan.
Where ever you decide to look for your next investment opportunity in Keystone Resort, anywhere is safe bet that you'll gain over the long term. Short term bets are central to River Run Village and long term opportunities exist in the Lakeside Village area of Keystone Ski Resort. Changes are coming to Keystone Colorado and it is an exciting place to look for investment opportunities in the years to come…especially when the downtrend of major metro areas seem to catch today's headlines on a daily basis.