I have been working as an instructor at Keystone Resort's Ski School for the past three seasons and recently obtained my certification through PSIA – Professional Ski Instructors of America and also AASI – American Association of Snowboard Instructors. I have learned a lot about the inner workings of Ski School over the past few years and how to get the most bang for your buck as a customer.
Are you debating whether or not to take a lesson? It is rare that people won't like skiing and snowboarding if they have taken a few lessons. Skiing and snowboarding may look easy and there are some that will pick it up quickly, but the vast majority of us will have to struggle with it, possibly for a few days  before catching on. Lessons are a great way to learn the skills you need to, correctly. Instructors are paid to be patient, teach progressions and take the proper precautions against injury.  Taking a lesson is a great alternative to having a friend (or significant other) teach you because everyone is at the same level and the instructor is able to tailor the lesson to you and you can avoid the tensions that may arise otherwise!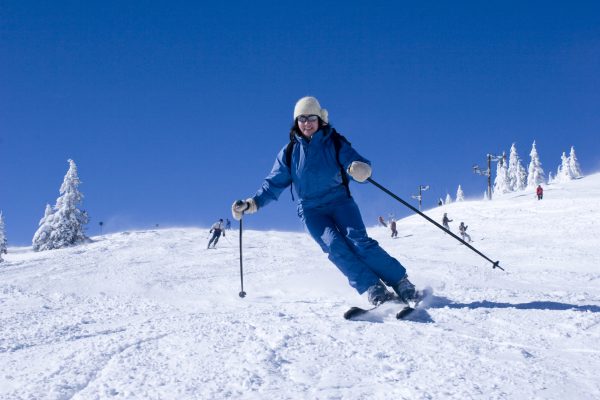 Although I normally give adult snowboard lessons, I have had experience in ages 7-11 kids snowboarding lessons and ages 3 – 6 kids ski lessons. Both adult and kids group lessons are a great way to make new friends. Kids are grouped by ability and age and are focused on fun – the little ones take breaks in the many playground forts to play and breaks to warm up for hot chocolate. In fact, there's a special area on the mountain called Riperoo's forest designated only for kids in ski school that has bridges, tunnels, and obstacles for kids to ski in and out of. Adult lessons are grouped by ability and usually only break for lunch unless it's unbearably cold out and everyone wants a warm up break.
As far as choosing which village base area to take a lesson, I think both base areas at Keystone have their pros and cons. In my opinion, the Mountain House base has much better teaching terrain. They have an overall bigger area including three magic carpets, a 'roller' hill area and a beginner chair lift. There are separate areas for kids and adults and the terrain is a little bit more consistent and easier to get the hang of. The upside of River Run is that the beginner area is at the top of the mountain so you get the experience of riding the gondola up to the top of the mountain and seeing the incredible sights – A breathtaking view of Lake Dillon and the beautiful Breckenridge ski resort will surely make you feel like you're on top of the world. River Run also has a magic carpet and beginner chair lift.
The two main types of lessons that Keystone Ski and Ride school offers are group lessons and private lessons. Group lessons are good because you get to meet new people and make new friends however, on crowded days there can be up to twelve people in one lesson which makes it a bit harder to get what you want out of the lesson. Private lessons are a great alternative if you want to speed up your learning curve and have a lesson that's completely tailored to you. Private lessons are able to start any time of the day per your request and the instructor is dedicated to teaching you exactly what you want to learn (private lessons are offered at any level through advanced) and can cater to your every need.
Something that many people don't realize or think about is upper level group lessons. Upper level lessons are a great way to touch up bad habits, take a refresher course and learn new tricks or terrain. To be honest, they are a great way to get a private lesson because not many people take upper level lessons and sometimes ski school even runs deals that make a lesson and lift ticket cheaper than just a lift ticket. Typically there will be at most three other people in a lesson above level four.
At the end of your day, your instructor will give you a sort of debriefing explaining what you learned and what will be to come in the next lessons. They will also tell you what level you should be in should you chose to take additional levels of lessons. Tipping your instructor is very much appreciated as many instructors depend on ski school for their main income and therefore are 'living the dream' in a way, but don't have a lot of money.
Keystone is also home to many special programs that are some of the very best around. Kroozers is a program that will develop great skills and teach safety all while having a great time. It is a three week program for kids ages 7 – 15 of all levels – kids are grouped by speed, age and level and have the same classmates and instructor for the duration of the program. This is a great way for kids to make great friends with each other and their teacher and also become great skiers and snowboarders. Snowboard outreach society (SOS) is also a wonderful charity program that is for less fortunate kids that provides them with free gear, equipment and lessons and from what I've witnessed the kids in those programs are some of the coolest and most humble kids I've ever met. There are also programs like the Betty programs that are specifically designed for women etc.
As a whole, Keystone Ski and Ride School has a really great thing going. They offer quality instructors, diverse terrain and an overall great experience!