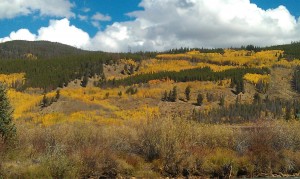 Come on up to Keystone, Colorado for the Brilliance of Aspens.  There is still time to see the colors and enjoy the crisp fall air.  We've got a list of the best hikes to enjoy this fall in Summit County with your family and friends!
Old Dillon Reservoir (1.5 miles/ vertical 150 ft.) – While most visitors focus on prominent Dillon Reservoir, nearby is a small but charming body of water, which is the goal of this short, easy hike. Not only is the slightly elevated locale of Old Dillon Reservoir a scenic one, but the trail is lined with fragrant wild roses in late June and into July. The gentle trail climbs only 140 feet in three quarters of a mile to offer a view of Dillon Reservoir below as well as the many mountains beyond. The goal is a tranquil pond reflecting massive Buffalo Mountain. Wildflower Alert: A bounty of fragrant wild roses leads to pretty views of Dillon Reservoir and a serene scenic pond.
Directions from Keystone: Take Highway 6 back towards Dillon and turn left onto Dillon Dam Road (CO Rd 7) and the Old Dillon Reservoir parking will be on the right several miles down (there are no roads to take you directly to the reservoir). On the other side of the road is Lake Dillon, so take a walk over there to enjoy the views of the lake.
Barney Ford Trail (4.8 miles/ vertical 780 ft.) This hike actually follows three trails: Carter Park, Moonstone, and Barney Ford. The majority of the hike is on the Barney Ford Trail, which was built along old mining trails and ditches past mine ruins and plenty of glory holes. Except for the first grunt uphill on the Carter Park Trail, the hike through coniferous forest is fairly gentle and gorgeous. Enjoy the crisp mountain air as you hike through the abandoned mines.
Directions from Keystone: Take Swan Mountain Road off Highway 6 to Breckenridge. From Breckinridge take Boreas pass road up the mountain till you get to baldy road and turn left. Once on Baldy road turn left on sally barber for couple hundred yards and you will see a pole with small signs on it at the Barney Ford trail head. Once on the trail make sure you follow the arrow that points to the right. Take this trail down till you cross a road and it will turn into the moonstone trail.
Salt Lick Trail (4 miles/ vertical 650 ft.) The cool days of autumn are best for enjoying the spectacular aspen and scenery of this trail. A golden carpet of Aspen leaves covered the trail during our recent fall outing here. Lily Pad Lake is about a half mile from this point so if you continue on you will add about one mile to your hike. Locals report occasional Moose sightings here so stay alert and keep that camera within reach! This hike is absolutely gorgeous in the fall with the changing of the leaves.
To get here from Keystone: Take Highway 6 back towards Dillon and connect with route 9 (Highway 6 turns into route 9) north to the Wildernest Road (across from Wendy's) turn left onto Wildernest and continue for .9 miles and turn left on to a dirt road that is located on a sharp curve just as you pass the Wildernest Center (Conoco station). Park here and follow the road to the trail head. Follow the trail for about 15 minutes until you see a log bridge on your left that crosses Salt Lick Creek. Cross the bridge and continue up the path past beaver ponds and open meadows and a sign that marks the entrance to the Eagles Nest Wilderness area. If you miss the first bridge, there is another a couple dozen yards ahead – you can cross here.