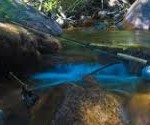 Amid the excitement of the Bluegrass and Beer Festival at Keystone Resort this weekend, families may be interested in a slightly more serene activity.  Check out the Kids FREE Fishing Derby this Saturday morning at Lakeside Village.  Kids 13 and under can participate!
Bring the whole family to cheer & enjoy a beautiful morning on the lake with raffle prizes, BBQ & live music following the event. No barb, no bait. Registration begins at 9 am, and the Derby starts at 10 am. Fishing gear is not supplied, so please come prepared with your own tackle & fishing gear. The fishing Derby is presented by Keystone Resort & Summit Fly Fishing. Call 970.468.8945 for more information.
For adults looking for even more fun this weekend, don't forget about the Bluegrass and Beer Festival.  There's still time to book with SummitCove and receive awesome prices and a free beer koozie!