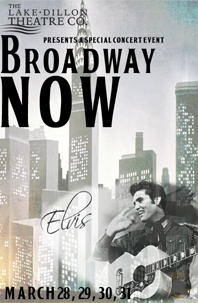 Keystone Resort visitors looking for a cultural event this weekend are in luck.  The Lake Dillon Theatre Company will present 'Broadway Now' March 29th at 6:30pn and March 30th, and 31st at 7:30 pm.  Prices will be $30 for regular seating and $35 for table seating.  Each ticket will include complimentary desserts.
Performances will include material from current Broadway shows as well as hits from the last decade.    There will be another Musical Madlibs performance, in which the audience will supply the lyrics and the company will sing the songs.  The entire second act is to be dedicated to the music of Elvis Presley.
Featured performers include Christopher Alleman, Melanie Beck, Joshua Blanchard, Kelly Renoux, Benjamin Whitmore, and musical direction by Emily Marshall.
SummitCove is proud to be your Keystone Lodging provider, and is located just minutes from the Lake Dillon Theatre.