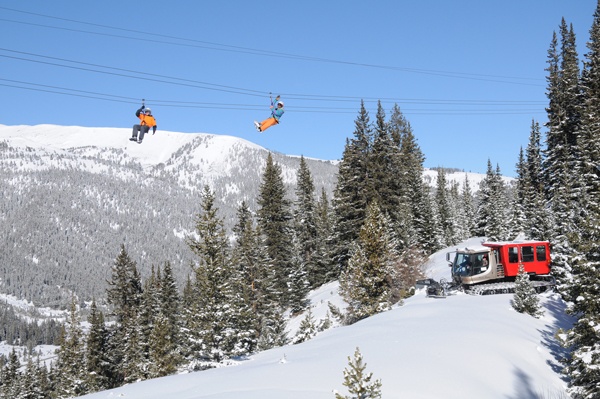 Recently, I was lucky enough to go on a group outing with one of our favorite winter partners, Top of the Rockies Zip Lines! After a quick drive to their outpost, we arrived and headed into the lodge, gearing up for our day outside. We got fitted up with complimentary harnesses and helmets and headed outside.  It was an absolutely gorgeous spring day, the sun was shining and the temperature was a mild 35 degrees.  We were all excited for some fun!
We were instructed to gear up and get into the snow cat that would take us up the mountain to the first of six zip lines to begin our tour.  Riding in the cat was a ton of fun, but be aware, it is a small space! We marveled in the views and felt like we could drive anywhere in that thing!  Once we got to the top, we went into the yurt to start our briefing where there was hot chocolate and a warm wood stove.  After a quick safety and instructional meeting and tasty drink, we were ready to start the fun!
Snapping into the lines is a breeze and their dual-snap in system makes it one of the safest zip lines in the world. The certified guides made us feel safe and made sure we had fun!  The fast rush of cool air against your face felt great and the rush immediately brings a smile to your face! The views were simply incredible, with mountains and snow all around.  Our group had some fun with a friendly snowball fight, incoming, incoming… launch! They teach you how to slow down before you land. You also take off at your own speed, but I recommend going as fast as you can to maximize the fun!
The whole tour lasted a little over 2 hours and was so much fun.  I would highly recommend this activity to anyone looking for a little fun and adventure on their Keystone ski vacation.  Book a tour with Top of the Rockies Zip Line today!  All SummitCove Lodging guests receive an exclusive guest discount with them! They even offer transportation options if you don't have a vehicle during your stay, or just don't want to drive!