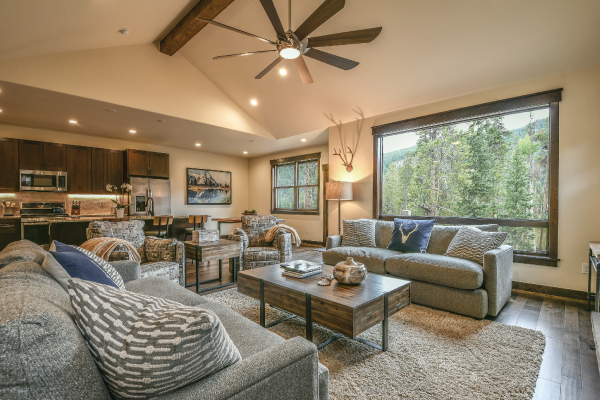 Recently constructed in the past 2 years, the Alders Townhomes in Keystone offer visitors top of the line luxury living in a beautiful setting, just far enough from the resort to offer a quiet setting, but still be convenient for resort activities.  The Alders subdivision is located in East Keystone, less than a mile from the main River Run Village area.  Situated near the paved bike path and Snake River, you'll have access to recreation areas right out the door.  Hop on the shuttle to be on the slopes in just a few minutes or head out on one of the many hiking and biking trails in the area.  In the winter, enjoy snowshoeing, snowmobiling, skiing and more.  You're even just a quick walk to the award-winning Ski Tip Lodge, perfect to sit down for a gourmet dinner or even apres happy hour after a day out on the ski slopes at Keystone Ski Resort. In the summer, walk or bike down to the village for one of the many popular summer festivals!
The Alders Townhomes vary in size, with most properties offering 3 to 4 bedrooms, private balconies and two car garages.  You'll find custom and luxury finishes inside such as granite counters, hardwood floors, stainless appliances, Alder wood doors and trims and stone fireplaces. Some even offer a private hot tub and barbecue grill! Multiple levels offer privacy for your group and spacious, open floor plans are perfect for entertaining.  Big picture windows bring in the incredible mountain & river views that surround these properties.  Alders guests also have access to the Dakota Lodge Pool Area in River Run Village, perfect for those families with kids!
SummitCove Lodging is now renting multiple vacation properties at The Alders.  Scroll through the photos and pick your favorite for your upcoming winter ski vacation at Keystone. Book your reservation now at The Alders with SummitCove!