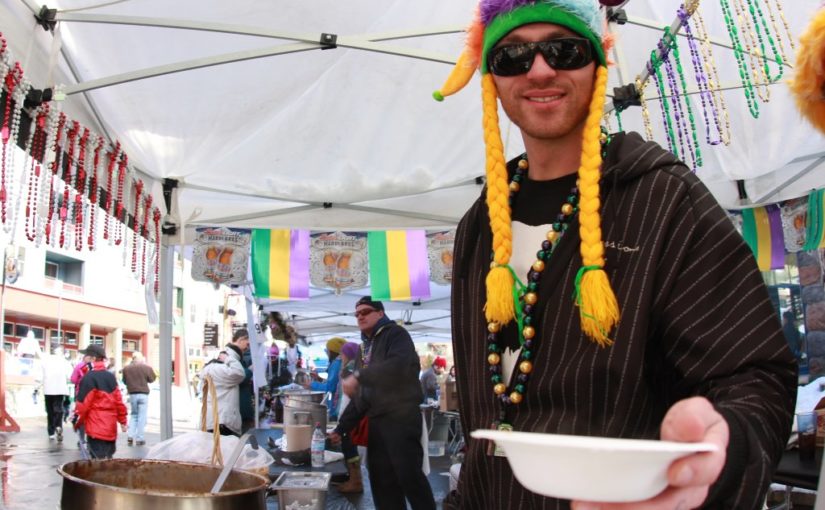 Want to change up your Mardi Gras plans? Come out to Keystone to ski and enter in a Gumbo Cook Off at Warren Station or just enjoy unlimited Gumbo tastings and an afternoon of fun. Listen to a free band, Charles Daniels and the Kings while you take part in the Gumbo Cookoff. Enjoy all things Mardi Gras at Keystone Resort this year on February 13!  Don't worry you can bring your kids too, this is a family friendly event!
For adults, tickets are just $12 in advance, $15 at the gate and will get you unlimited tastes and once you have given them all a try, be sure to cast your vote for People's Choice!  Want to bring the kids along? New this year, kid's tickets are $5 in advance and $8 at the gate. Kids will get their own kids choice ticket for their favorite gumbo and a free kids beignet!
Want to participate in the cook off and show off you Gumbo making skills or secret family recipe? You could win some great prizes and there are no entry fees!  Participation is open to anyone who thinks their Gumbo can win! All participants will be provided with a tent, two tables, linens, tasting cups, spoons and napkins. 1st and 2nd Place will be awarded in the following categories: Seafood/Exotic and Chicken & Sausage.  1st and 2nd place in each of these categories will be awarded by the Judges Panel and then a People's Choice Award will be determined by the guests.  They will also be giving out a Team Spirit award this year, so be sure to deck your booth out and put on your best costume for the chance to win!
Want a prime view of the Mardi Gras festival and music?  Book one of our River Run condos with a balcony that overlooks River Run!  We suggest Black Bear Lodge #8064 or Silver Mill #8164 as two of our favorites!