River Run's Hidden Gem at the Black Bear 8033
The Black Bear building in River Run Village is one of the closest to the gondola and features exquisite condos and common areas!
Walking into Black Bear 8033 gives a great first impression of what Black Bear has to offer. A full kitchen greets you just to the right, with bar stools on the opposite side of the counter. Continuing through the unit there is a dining room table to the right, and then you enter the open living area with a queen size sleeper sofa. You will love that so many of these units have sleeper sofas! It really makes a difference when you're vacationing with a large family…you can easily throw two or three smalls kids on these convertible beds!!
Black Bear 8033 has recently renovated and even added a 37″ flat screen TV. The new TV definitely draws your attention upon entering!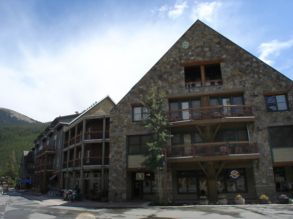 You will love the fact that the Black Bear is designed as a hotel, but that each individual unit is uniquely decorated. Each unit has a "lodge" theme, giving you that essence of the mountains and making you feel at home in the same moment.
On another note, having an indoor heated parking garage is fantastic, and  everybody has got to love that! No snow to brush off your car in the morning, and you don't have to wait 20 minutes for your car to heat up!
The Black Bear is truly a luxurious building and makes for an awesome ski vacation!