One advantage of staying in a vacation condo versus a standard hotel room is that they most often come equipped with a kitchen. If you have skied at any resort before, you know that eating out or even just having lunch on the mountain can be expensive, so having access to a kitchen and the ability to enjoy a nice dinner around the fire in your condo can save you a pretty penny.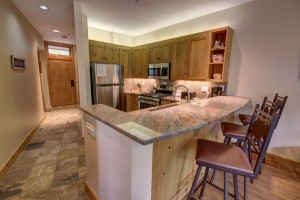 Ski resorts are often in remote locations and the price of food can be higher than in a normal city setting.  When you are heading to Keystone, we recommend doing your grocery shopping before you get to Keystone at the City Market in Dillon (about 7 miles from Keystone). They have a good variety of options and better prices than the smaller markets in Keystone.  Many of our vacation condos have a crockpot and there's nothing better than getting back from a long day of skiing and having dinner already made and ready to eat! A personal favorite crockpot recipe of mine is this recipe for Korean Tacos.  Stock up your fridge and buy things like sandwich meat, cheese and hearty rolls to bring your own lunch on the mountain and pocket snacks like granola bars, string cheese, beef jerky and trail mix.  Pickup some quick to make breakfast items like bagels with cream cheese or easy breakfast burritos with eggs, cheese, sausage and whatever veggies you have on hand wrapped in a grilled tortilla. Chili and spaghetti are hearty meals that can feed a group on a budget. To save money and not have to throw away food when you leave, plan out your meals in advance and think about buying versatile ingredients that can be used in a number of meals.
Of course, it's great to be able to treat yourself when you're on vacation too and go out and enjoy some of the local fare.  Personally, experiencing new food and going to new restaurants is one of my favorite parts of going on vacation. For those of you who are looking for some inexpensive spots to eat, don't forget about happy hour. There is a plethora of great places that have specials and/or happy hours for you to take advantage of. One of my personal favorites is at the Arapahoe Cafe in Dillon.  Visit their 'Pub Down Under' for $6.50 specials each night, ranging from Burger Night to Taco Night. I can personally say, they have yet to disappoint me. Another personal favorite is Kemosabe Sushi in Frisco. They have a $4-$6-$8 menu with several different options for sushi rolls, drinks, sashimi, etc. from 4pm until 6pm.
Here in Keystone, the Snake River Saloon is a great option. They have happy hour drink specials as well as 50 cent wings. The Snake River Saloon is on the bus route in Keystone, so you won't even need to get in your car!  Dos Locos Mexican Cantina is another great spot for happy hour with deals on tacos, wings and margaritas!  Luigis Italian restaurant also has a progressive happy hour with deals on beer, appetizers, and even personal pizzas.  Enjoy an early dinner and early bedtime!  
Don't forget to check out your exclusive Key to Keystone coupon book which has some great restaurant deals like a free margarita with purchase from Dos Locos, 10% off a pie from Pizza 101 and $12 off dinner at the Snake River Saloon.  It even has a coupon for Room Service Direct which will deliver a meal right to your condo on those nights where you just want to stay in.
Written By: Elizabeth Constantine