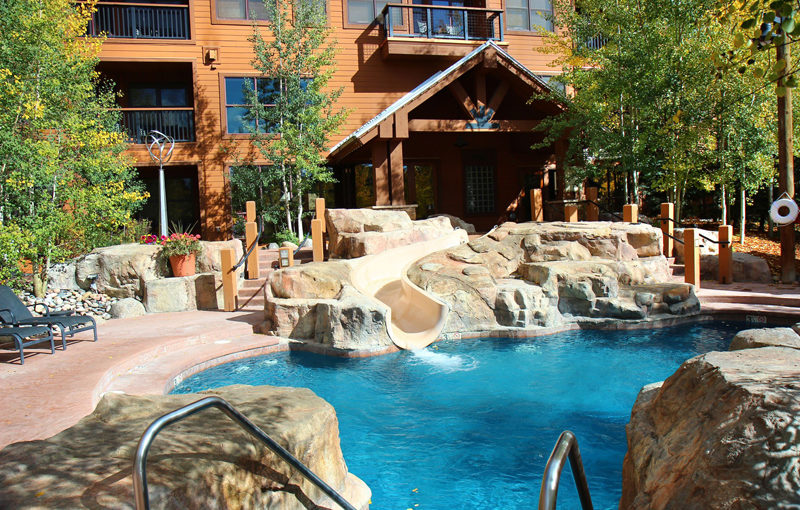 Nothing beats a good pool day in the heat of the summer!  Keystone is home to a number of wonderful heated outdoor pools, scattered across the resort. They may be different sizes and shapes, but they all offer family fun! Here are just a few of our favorite summer pool areas in Keystone to enjoy some fun in the sun. Start planning your Keystone summer getaway today with SummitCove!
Tennis Townhomes – North Keystone, Conference Village
Tennis Townhomes is located just across the road from the Keystone Lake. Since you aren't allowed to swim in the lake – this pool is the next best thing! Enjoy this huge, heated outdoor pool and great views of the surrounding green and lush hillsides.  Spread out on a chair near the grass with a good book or jump in!  Stay here with friends or colleagues for your next Keystone conference or take your family here for a summer Rocky Mountain vacation!
Expedition Station – River Run Village
Expedition Station is one of the few properties in River Run that has its own pool and is not shared by multiple complexes. This means fewer people in the pool and more fun! Enjoy the large heated pool and hot tub on a summer evening or for some fun in the sun on a bright sunny day! After the pool, head inside and enjoy the fresh eucalyptus steam room!
The Springs – River Run Village
The Springs is known as Keystone's favorite pool area!  Forget the boring squares and gray cement – this pool area is BEAUTIFUL! It was designed as a true mountain oasis with natural looking boulders, tons of trees, a waterfall and even a small water slide for the kids! There are two hot tubs, (one of them is adult-only) as well as a kiddie splash pool for the really little kids! Bring some brats to grill on the industrial grade grills and have lunch in the shade of the gazebo… all while you take in the spectacular views of Dercum Mountain!
Soda Springs – West Keystone
Located in West Keystone, this spacious pool at Soda Springs is great for an afternoon family pool party or barbecue. The wildflowers lining the pool, sprawling green lawns and large trees in West Keystone add to the serenity of this pool area. You'll love how peaceful it is here.. imagine floating in this pool with the leaves blowing in the breeze!
Settler's Creek – East Keystone
The Minnie's Cabin pool area is located in the heart of Settler's Creek, surrounded by picture-perfect townhomes and beautiful mountain views.  There is a small pool and hot tub, along with a great cabin to hangout at! Head into the Clubhouse for a game of pool or to use the wet bar for a cold lemonade and snack.  You'll want to spend the whole day here!