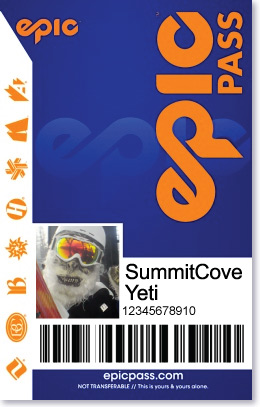 If you are visiting any Colorado Ski Resorts this winter, such as Keystone, Arapahoe Basin, Breckenridge or Vail, you may want to consider purchasing a season pass.  There are a variety of pass options available, ranging from a lower priced $289 Keystone/ A-Basin pass to the no blackout, Epic Pass, valid at 15 resorts across the world, currently priced at $709. Typically daily lift tickets at the ticket windows can run anywhere from $90 – $114 depending on when you visit, and after only about 3 to 4 days of purchasing full priced daily lift tickets, you will have already put down enough money to have purchased a season pass!  Current pass prices are only guaranteed until October 13th and typically passes are only available for purchase until mid-November, so it is important to purchase them soon if you would like to go that route.
Maybe its possible for you to visit Keystone Colorado twice this winter to really make buying a pass worthwhile.  Look for non-peak weekends or week day stays to really save on your lodging and airfare prices. SummitCove also offers year-round exclusive guest discounts on equipment rentals, dining, activities, shopping, shuttles and car rentals.
If you aren't in the market for a season pass but are planning a visit and are looking for discounted lift tickets- your best option is to purchase online at least 7 days in advance.  You can also buy multi-day lift tickets that allow you to ski multiple days and the more days you ski, the more money you will save.  The key to finding discounted lift tickets is always buying in advance!