The age old question…  Should I purchase a season ski pass or not?  You may be saying to yourself, I am only going to be out in Keystone Colorado once or twice this year, how can it be worth it? Well here's our advice on the lift ticket / season pass debate.
While you can certainly find deals for discounted lift tickets or save money by purchasing multi-day tickets, you won't ever find a better value than a season pass.  Keystone Resort is featured in multiple season pass options, from the basic Keystone A-Basin pass, to the Summit Value Pass all the way up to the restriction-free Epic Pass.  If you are planning on skiing Keystone for 3 or more days this season we HIGHLY recommend looking into purchasing a Colorado ski season pass.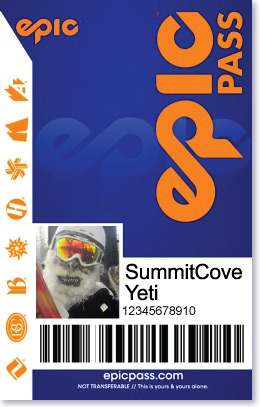 The Keystone A-Basin Season Pass offers almost unlimited skiing and riding all season long at both Keystone and Arapahoe Basin.  There are a few select blackout dates, but if you do find yourself in Keystone during those times, you can always use the blackout date as your day off from skiing… enjoy a day at the spa, snow tubing, ice skating, or just hitting the outlet malls and giving your sore muscles a soak in the hot tub.  Running at just $279 for adults and $199 for kids, you can't beat the prices of this basic pass.  With single-day lift tickets at either resort running as high as $104 at times, 3 single-day tickets will likely run you a higher bill than this season pass option.
Another great value is the Summit Value Pass, especially if you are looking to explore more resorts.  This pass includes completely unrestricted days at Keystone and  A-Basin, and limited days at Breckenridge.  Starting at $439 for adults, $349 for Teens and $219 for kids, this is a great option if you plan on taking multiple trips to Summit County this winter, are coming for Holidays, or are on a longer trip looking to ski or ride at multiple resorts.
If you still can't justify the cost of a pass for just one trip, you may want consider coming out for a second winter vacation to make it worthwhile.  Off season, non-holiday times can offer up great deals on lodging.  Look for dates in the early season, just before or after Thanksgiving, mid-January, and finally the last few weeks of the season.  Typically you can find lodging deals up to 40% less than Holiday rates, making it easy to make a quick trip out to Keystone.  And don't forget to ask for a return guest discount!
Whatever you decide to do regarding your Colorado lift tickets or season passes, make sure you buy early!  Season passes are only on sale for a limited time, typically until early to mid-November.  If you are purchasing lift tickets, it is usually your best bet to buy at least 7 days in advance online rather than at the ticket window.  Most resorts offer multi-day passes, 3 of 4 days, 5 of 7 days and so on, and the discount gets bigger the more days you buy.