We love ski vacations in Keystone, but don't be fooled – there is a lot of work that goes into them, especially when you are traveling with little kids.  Getting our ski and board rentals can be like a bad movie with the Griswolds, so instead of hauling my 4 kids into the ski shop I decided to have the ski shop hauled to my 4 kids and I called Ski Butlers.  This company is a game changer. They deliver ski and snowboard equipment to your condo and they don't just drop it off, they bring 3 different sizes of boots for you to try on, so you are guaranteed the best fit.  I was worried that the price would be outrageous for such an amazing service but Ski Butlers gave us a discount because we were staying with SummitCove for our lodging. It was a great perk of staying with SummitCove and it didn't break the bank and the time savings and convenience was worth every cent! 
We had been traveling all day and when we finally checked into our beautiful condo, I was beyond grateful that we didn't have to take the kids to the ski rental shop.  We were tired and ready to relax. Ski Butlers showed up at our scheduled time, which was a few hours after we checked in. The techs brought in 18 pairs of boots, which was 3 pairs for each person in our family to try on. They fit all 4 kids, my husband and me in boots, skis, boards and helmets. They were extremely friendly and knew how to work with children.  My nine year old asked if they could teach her how to ski, she liked them so much! While they could not give ski lessons to us, they did give us a lot of information on where to ski and what to do during our stay in Keystone.  
We had a fabulous 3 days of skiing on our rentals from Ski Butler.  We were all happy with our gear and my husband and I really liked the ski's they gave us.  They were nice shaped skis that performed well both in the fresh powder and on groomers.
We were sad when it was time to leave Keystone but really happy we didn't have to return our ski's to the ski rental shop.  It was hard enough to get packed and out the door in time to catch our plane, that I was relieved we didn't have another stop.  We left our ski's in our ski lockers at the condo and Ski Butlers came and picked up all our gear. We never thought about the gear again!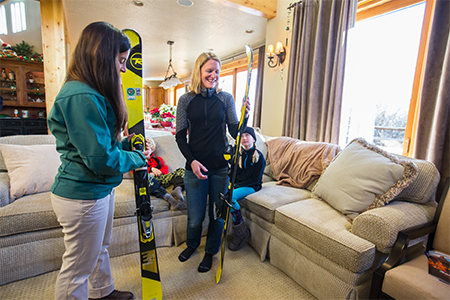 Ski Butlers makes your vacation easy!  They took one of the most annoying parts of traveling off my plate, running errands, and it made my vacation more enjoyable.  Thank you Ski Butlers! We will be using your service again!!