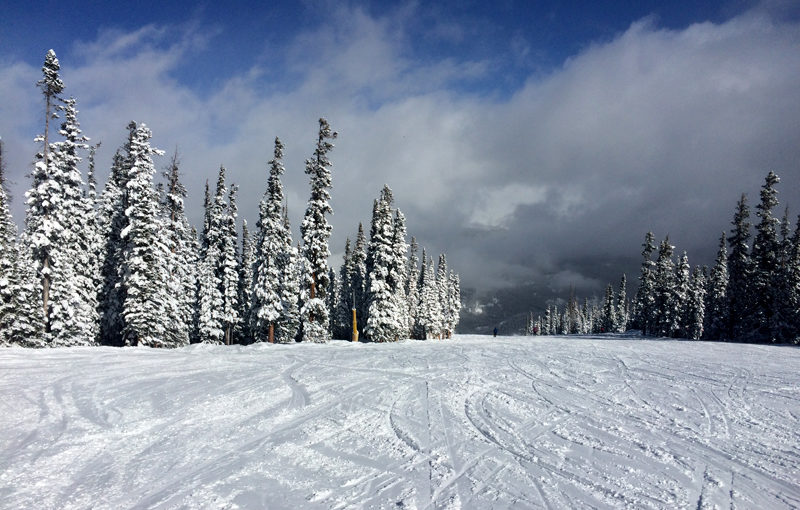 Winter has officially arrived at Keystone Ski Resort, with over a foot of snow (18 inches to be exact!) falling in the past 2 days. 22 inches so far to start off the month of February and over 4 and a half feet of snow has fallen at Keystone CO since the new year. Nearby Arapahoe Basin Resort has received 20 inches of snow in February 2018.
The conditions are prime and with less than 10 weeks left to the 2017 – 2018 ski season, now is the time to get to Keystone and take advantage of all of the new snow!  This weekend kicks off a new festival at Keystone, the Kidtopia Culinary Festival.  This festival focuses on mixing food and fun, bringing in some awesome kids celebrity chefs to provide instruction, demonstrations, and of course, food sampling! Kids will have the chance to make and taste their own creations, while participating in all sorts of fun daily events.  The festival runs February 9 – 17.  With Mardi Gras just around the corner, head to Keystone on February 13 for the Mardi Gras River Run Gumbo Cookoff.  Purchase a tasting ticket and spend the afternoon tasting as much Gumbo as your heart desires while you take in the live music in the village from Chris Daniels and the Kings. For just the adults, check out the annual Winter Wine Tasting event taking place on Saturday, February 17 at Keystone's Warren Station.  You'll get a chance to taste over 20 types of wine and sample gourmet appetizers from Black Diamond Gourmet Catering. Live music will be happening and tickets are just $40 in advance.
SummitCove Vacation Lodging is your place for the best lodging rates and selection when booking a Keystone Ski Vacation. Search through hundreds of vacation rentals to find the condo that you like the best.  You can search by number of people, bedrooms needed, desired amenities, location or village or just by looking at the pictures!  If you need help sifting through the many options, we have vacation planners available to point you in the right direction and help you find that perfect place.  Your condo or home serves as the base camp for your whole trip, so we know that the perfect vacation starts with the perfect lodging option.  Call us today or book online and get up to Keystone to enjoy the fresh snow!