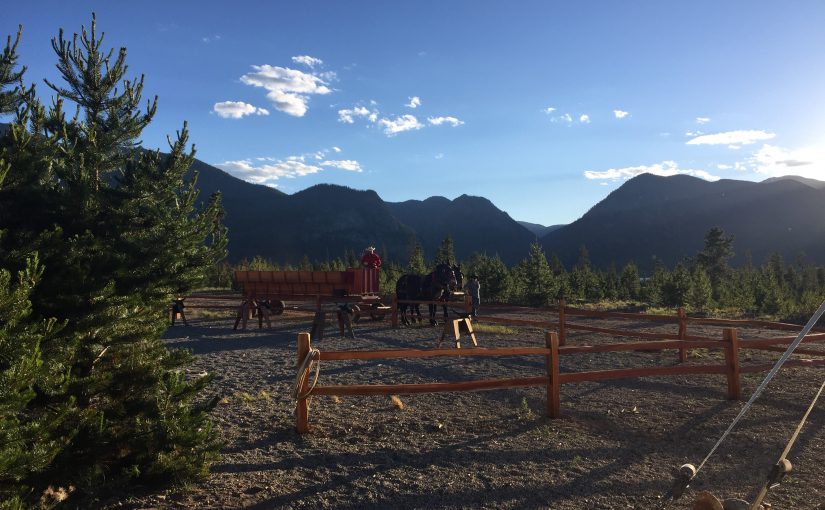 Our family reunion was in Keystone, CO this summer.  We booked our lodging with SummitCove Vacations and they did an amazing job with our reservations, keeping us organized and helping us plan activities.  One suggestion they made was going on a chuck wagon dinner with Two Below Zero. Not only was this the best suggestion but SummitCove also gave us a coupon for 10% off.  Regular price is $69 for ages 13 years-adult, $49 for ages 4-12 years and kids under 3 years are free. This experience was some of the best money we spent on our vacation! 
I called Two Below Zero and spoke to a friendly and informative lady.  She explained that the Chuck Wagon Rides are about 3 hours and include the wagon ride, dinner and a Wild West Show.  She said they also offer vegetarian and gluten-free options at dinner. I was glad I called in-advance because we have a large family and much to my surprise they had room for 35 of us, so I booked our chuck wagon dinner.  No one really knew what to expect but everyone was looking forward to it!
Finally, it was vacation time and the night for our Chuck Wagon Dinner with Two Below Zero.  We arrived at their office in Frisco and the Cowboys loaded us up on buckboard wagons.  The wagons were pulled by large, gentle mules. Our Cowboy drove the mules and guided us through a beautiful forest, with amazing views, to their campsite where we would eat our dinner.  It is a good idea to put on sunscreen and bring sunglasses. We also brought light weight jackets for the ride back. The campsite also had a game corral to play in while we waited for dinner.  The kids and adults played horse shoes, cowboy golf, corn hole and tried ropin'. None of us were very good at ropin' but we were all good at eating the fresh, homemade biscuits with honey!
Next a dinner bell was rung and we sat down for dinner.  We were served delicious BBQ beef brisket and BBQ chicken.  We ate savory cornbread, corn on the cob and delicious beans.  For dessert we enjoyed a rustic warm apple cobbler. We also ordered beer and wine for the adults.  We had full bellies and the next thing we knew there was a bunch of hootin' and hollerin' and the Wild West Show began!
From the youngest member of our family (3 years old) to the oldest member of our family (77 years old) we were delighted by The Jackman Brother's hilarious play!  It is a comic act with the Sheriff chasing "the bad guy". These brothers perform amazing stunts and involved the audience. My daughter and nephew were picked to participate for part of the act and it was a highlight for the entire family!
Before you know it the sun is going down behind the mountains and it is time to get back on the wagons and return.  We watched an amazing sunset and then the stars started to slowly pop out. Everyone is smiling from ear to ear. We talk, laugh and cuddle our kids on the way back.  At the end we thank our Cowboy guide and tip him kindly. He told us jokes, stories and gave us cool information about the area.  
We get back to our cars and we realize that for the past 3 hours we were not in 2019, were back in the Wild West with the beauty of the Rocky Mountains all around us.  It was an experience our family will never forget and one of the highlights of our family reunion. We live an hour away and plan to come back with friends and anyone who comes to visit us.  Two Below Zero does an amazing job and we can't wait to come back and share the experience with more people!