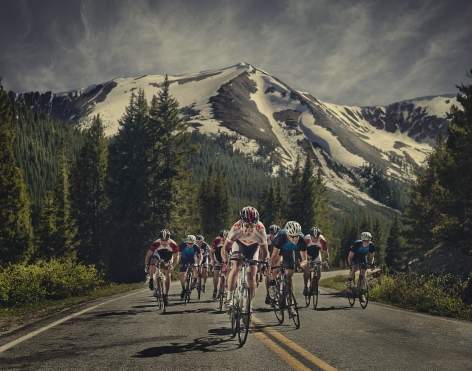 Get ready for the Inagural USA ProCycling Challenge!  Between August 22nd and August 28th Colorado will play host to the most difficult stage race EVER held in the United States. Some of the Best Cyclists in the world will compete in this 7 Day race across the highest mountain passes ever ridden in a stage race. This race has already gained the attention of the world media and many of the top cyclists in the world have chosen to ride this race instead of the final of the three "Grand Tours, La Vuelta D'Espana".
One of the stages, and possibly the most exciting stage of the race will finish in Summit County on Main Street in Breckenridge on Saturday the 27th of August. The stage will begin in Steamboat Springs and wind over the challenging "double summit" of Rabbit Ears pass. The cyclists will then come down Highway 9 through Kremmling to Silverthorne. The final approach to the finish will go up the hill from Silverthorne to Dillon, around the reservoir, over Swan Mountain Road and swing all the way through for a possible sprint finish in downtown Breckenridge, CO.
Keystone is only about 2 miles from Swan mountain road and one of the most exciting points of the stage. This is a great place to relax with some great mountain hospitality as you enjoy being part of this astounding event.  Chat with locals and bike enthusiasts as they give you a crash course on the best riders in the world and the local consensus about the USA ProCycling Challenge. For those who want to ride up to watch the race, bikes will be allowed on the route at all times, although as the race approaches you will be asked to dismount and move to the side of the road. Wait on the side of the road and cheer on your favorite rider as they churn up the mild category 4 climb or fly by you down Swan Mountain Road, hitting speeds of over 40mph, hugging the road with only 1" of rubber. Follow the riders to Breckenridge, grab a bite to eat, walk around the old town of Breckenridge and then come back to Keystone and relax away from the crowds.
SummitCove will be happy to provide further information for you about the race, as well as to help find the perfect lodging for cycling enthusiasts.