Congratulations to SummitCove General Manager
Tyson Horner
Tyson was selected as one of this year's Top 25 Most Influential Young Professionals by Colorado Biz!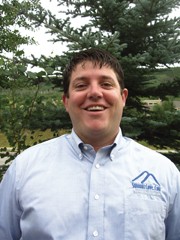 Professional position: General manager, SummitCove
Path to success: SummitCove manages multiple properties in the Keystone area. Horner, who joined the company in 2008, is credited with more than doubling the size of the company since his arrival. "Mr. Horner started when our company was very small. He took the time to understand the industry, set small goals and build upon successes along the way," says his supervisor, Peter Reeburgh. "His work ethic has become the talk of the company and he serves as an example for others to work toward."
Making an impact: Through extensive research, Horner has been able to help his company find competitive advantages, changes in the industry his company says have been copied by other property management companies.
Connecting with the community: Horner became involved in?the Summit County Chamber of Commerce and now serves on its board of directors.
Praise from a colleague: "Mr. Horner has two of the highest qualities in a person: Honesty and the drive to never give up," Reeburgh says. "When faced with huge challenges, he never gives up until the?job is done 100 percent and people are happy with the outcome."
With the genXYZ Awards, ColoradoBiz honors the Top 25 Most Influential Young Professionals in Colorado. At this 2nd annual event, Colorado Biz celebrated the winners and their impact on the state's economy. This event gathers a crowd of dynamic young professionals from up and down the I-25 corridor.