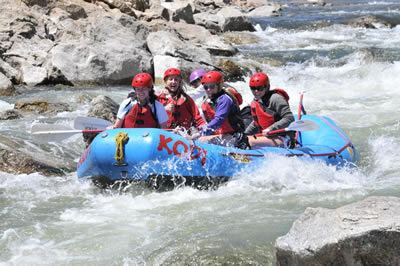 Keystone visitors who are looking for a unique Colorado experience on their mountain vacation need look no further than a river rafting trip!  Our partners at KODI Rafting, based in nearby Frisco, Colorado are making it even easier by offering SummitCove guests a 10% discount on their various adventures!  KODI is a family owned and operated business that has spent almost 30 years guiding whitewater rafting trips.  With 30 different trips available on six different rivers, there is something for everyone!
In addition to a wide variety of trips, KODI is also introducing Stand-Up Paddle Boarding to its lineup of activities.  Anyone can do it, and it's guaranteed to add a different experience on the river!

A couple of other little perks?  Dads will raft for free on Father's Day, which is coming up on Sunday, June 17th!  Purchase a child's rating trip, and receive a free trip for Dad!  Call 970.668.1548 for further details!
KODI has also introduced a wedding program this summer in which couples can elope in style and marry on the river!   The wedding package includes live acoustic music, a raft trip for the wedding parting, and a champagne toast.  Ceremonies will be performed by KODI owner Campy Campton!  It sounds pretty romantic and adventurous to us!  Brides and grooms who are interested in more information should call 970.668.1548 to plan their big day.   Summit Mountain Weddings is partnering with KODI to assist with wedding planning, and here at SummitCove, we still have openings for brides in need of Summit County lodging with our cash back Wedding Gifts Program!
There is no better time to plan a rafting trip, so get started and contact us today for an unforgettable summer in the mountains!