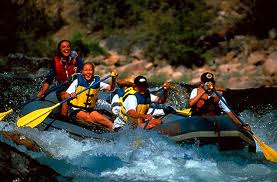 White Water Rafting draws many to the mountains of Colorado in the summertime.  Keystone is an excellent place to stay if river rafting is a part of your vacation plans.  When the snow melt starts, conditions become perfect for rafting trips and this summer is no exception.  Rafting trips do require booking in advance, and it's always a good idea to do your research before hand.  We are going to let you in on just a few tips that can narrow down your search and help you make the perfect decision for your family and travel partners this summer.
The difficulty of a course is determined by classifying each trip from a scale of Class I to Class VI.  Families, especially those with small children will probably be perfectly happy with Class I or II rapids, while Class III is great for the more experienced or adventurous.
Summit County has five different rafting rivers; the Arkansas, Colorado, Clear Creek, Blue, and the Eagle Rivers.  Each of these offers different courses and are good for various levels of experience.  You can choose from various trip lengths including multi-day or overnight stays.  You may want to consider incorporating other activities as well.  Many rafting companies incorporate other activities such as rock climbing, fishing, horseback riding and more, so you can certainly add even more to your rafting trip.
It goes without saying, but you'll want to bring plenty of sunscreen and eating at least a small meal before you go.  Some trips include lunch, so be sure to inquire about this when you make your reservation.  There are some great companies to work with in planning, so take a look at our list here.
Adding a rafting trip to your Keystone vacation will make for unforgettable memories and is sure to bring you back to the mountains again and again!