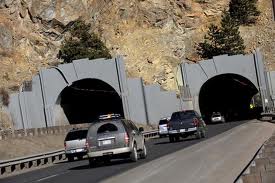 For those who make the commute on I-70 from skiing at Keystone Resort or other Summit County destinations will be interested to know that a $60 million dollar project to widen the eastbound Twin Tunnels near Idaho Springs is a go.  Members of the Colorado Transportation Commission approved the plan on Thursday.
This could be good news for weekend warriors traveling back towards Denver after a weekend on the slopes at Keystone.  The Sunday afternoon drive during peak season can be a slow one, and it is expected that this project will serve to improve the flow of traffic.
SummitCove will keep you up to date as more information becomes available on this project.  Follow us on Twitter and like us on Facebook for traffic updates and more information about planning your Keystone Resort vacation throughout the season!