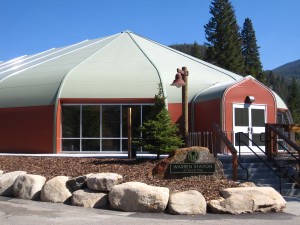 Warren Station is located in the heart of River Run Village. It has replaced the Keystone Pavilion as the new cultural arts and theater center. Built by the Keystone Neighborhood Company, Warren Station offers the public a year-round venue for the arts in River Run Village. This location also serves as one of the most popular sites for weddings and receptions in Summit County.
With over 7000 square feet of space, a full service bar, amazing views, and an outdoor patio complete with fire pit, this venue is sure to please everyone! In addition, the Quaking Aspen Amphitheater is connected via a walking bridge. The location itself is big enough to create the perfect atmosphere for any event, yet retains the intimacy of a smaller hall. Warren Station is easy to find, has a great central location and of course free parking is available nearby in the Montezuma Lot!
As the forefront gathering place in Keystone, Warren Station has the capability to host a large variety of events. A now-permanent structure, this building will remain the performing arts center for years to come. Whether you visit Keystone during the winter months for skiing or summer months for golfing, the year-round venue provides an increased opportunity for the arts! It is available to rent for private events, weddings, meeting spaces, and whatever else you might need!