Keystone Colorado Wedding Locations and Venues
Keystone Colorado Wedding Venues
Keystone Colorado is an amazing place to celebrate your wedding, any time of year! With beautiful mountain surroundings as your backdrop you can't go wrong in choosing Keystone for your wedding location. Keystone is home to many different venues and event space that can accommodate hundreds of guests or a intimate party of family and close friends. Keystone has award winning venues that incorporate historical venues, romantic themes, and a magical touch for your ceremony, reception, bridal luncheon, rehearsal dinner, welcome reception and brunch. These unique venues provide you with many opportunities to express your sense of style and personality.
Many of the venues are situated near or on the mountain and the breath taking views of Keystone and the surrounding mountains. When you are selecting a venue, keep in mind the size and amenities to wish to have as part of your ceremonies and also their proximity to your lodging. Some of the most memorable locations involve the top of the mountain weddings (Black Mountain Lodge at Arapahoe Basin is spectacular!) or a quaint, intimate area near the forests and lakes of Keystone. Keystone truly is one of the most magnificent areas to hold a summer or early fall wedding and the backdrop of the mountains will be sure to make your wedding day an event everyone will remember for years to come.
SummitCove offers lodging for your guests, with a great Wedding Gifts Program, which gives the Bride & Groom cash back from every reservation made with the wedding! We recommend renting a private home to host the wedding party and to serve as a gathering point to get your guests together.
If you hold your wedding at one of Keystone Resort's venues listed below, you will not be disappointed! Some popular wedding venues in the Keystone area:
Warren Station/Quaking Aspen Amphitheater in River Run Village
Timber Ridge atop Keystone
Alpenglow Stube
Summit House
The Lodge Ballroom
Bighorn Steakhouse
The Littlehorn Room
Dinner Wagon/Sleigh Ridge at The Soda Creek Homestead
One of our beautiful Private Homes (Small Groups Only)
Keystone offers a wide array of activities for your wedding guests. During the Summer months they can choose from golf, hiking, rafting, biking, horseback riding and fishing. In the Winter months they participate in skiing, snowboarding, tubing, snow cat tours, ice skating and sleigh rides.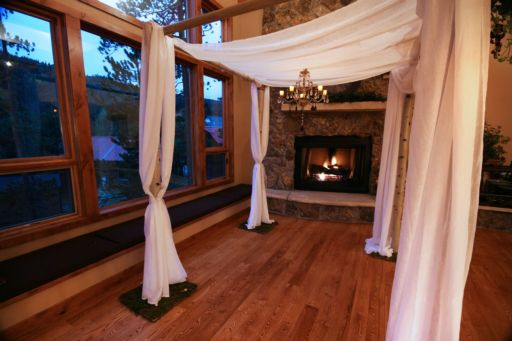 From the gorgeous mountain backdrop, beautiful venues and incredible atmosphere, your Keystone wedding is sure to be the one that people remember!
Contact Us