White Water Rafting Colorado
White Water River Rafting in Colorado is a great spring, summer and fall activity to experience while you are visiting Summit County. There are many different rivers and courses that range in difficulty and required experience. White Water Rafting is a great family activity, especially for older children. Reservations are usually required, so be sure to call ahead for information on availability and appropriate trips for your group.
There are four rivers that are near Summit County with excellent rafting:
Blue River
Located right here in Summit County. This class 2 and 3 river is perfect for beginners and intermediates. Enjoy the beautiful scenery of the Gore Range. This river does have a short season so check the schedule to see if trips are being offered.
Clear Creek
Located in Idaho Springs and just off I-70. This river has sections and trips for all levels. Class 2 – 5 rapids.
The Colorado River
Located about an hour and half north of Summit County. A great rafting river for families with young children and beginners. Class 1 – 2 rapids.
The Arkansas River
Located near Buena Vista. This river is one of the best rafting rivers in the world with scenery to match. It has class 1 to 5 rapids so it has a wide range of trips for beginners all the way to expert. You are also able to do multi-day trips. The most popular trips are Browns Canyon for the intermediate and the Numbers and Royal Gorge for advance.
River rafting season usually opens towards the middle of May, depending upon the snow melt, and can continue through September. The water is likelier to be colder in the earlier months of rafting, and it's a great time to plan a trip with more challenging rapids. A calm smooth float trip is best scheduled later in the season. Always bring a swimsuit, and plan to use the wetsuit, splash jacket, and booties available from your rafting company. Avoid wearing cotton and wool clothing which become too cold when they are wet. As we often remind our guests, sunscreen is a must! Between high altitude and sun's rays reflecting off the water, you will need it!
Performance Tours Rafting, established in 1986, has an outstanding safety record and they strive to provide guests with the most professional and enjoyable whitewater rafting adventure. Performance Tours has a wide variety of trip options on 5 spectacular rivers; Arkansas, Blue, Clear Creek, Colorado, & Ten Mile Creek as well as full days, half-days, multi-days, extreme, and mild trips. There is something for everyone, starting at ages 4 and up and for all ability levels! SummitCove coupon in Key to Keystone book. SummitCove guests receive special discounted rates on whitewater rafting through our preferred partners listed below!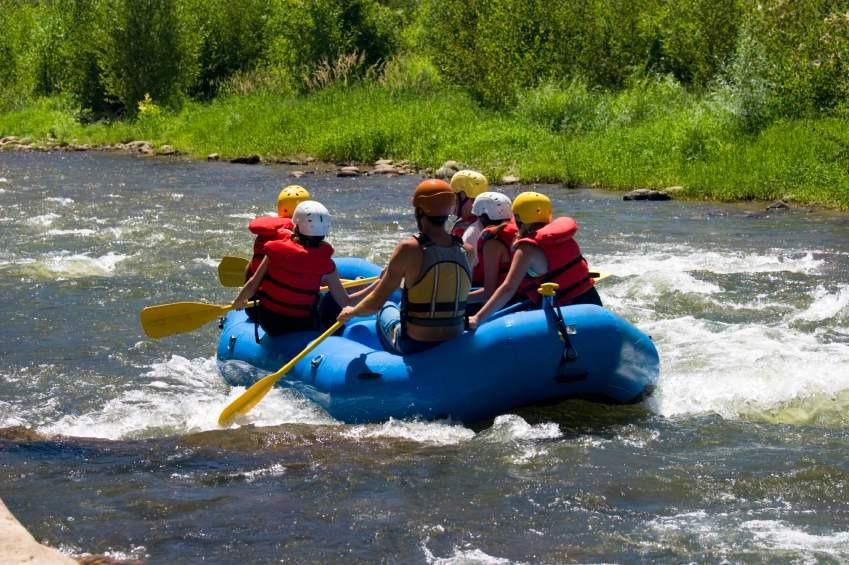 PREFERRED RAFTING PARTNERS
CLEAR CREEK RAFTING
350 Whitewater Rd., Idaho Springs, CO 80452
(303) 567-1000
Prices vary depending upon length of your trip, the excursion you choose and the ages of those in your party. Difficulty of rapids on the river are rated Class I-VI. Class one is mild and relaxing and Class VI can be dangerous and is only for experts. Be sure to plan your trip with the help of a planner at your rafting company, and do some homework on the various river trips that you can take in order to tailor your experience to your needs

You won't want to miss rafting in Colorado!